COLLEGE SPORTS: Kelton, Shorter hope to work through multiple coaching vacancies, hurdles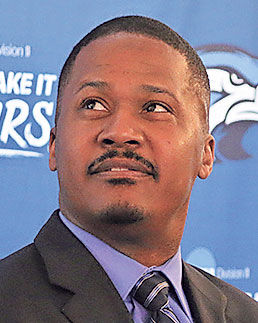 Becoming an athletic director means learning to deal with changes. Aaron Kelton knew this when he became Shorter's interim athletic director in January.
But in that short time, Kelton has had to oversee an athletic department hit with one coaching departure after another while still trying to settle into his initial job as the Hawks' head football coach.
The second-year football coach admits it is not the most ideal situation, but it is a challenge he's taken on as best he can.
"Change is hard everywhere and we have had some major changes in some programs here," Kelton said. "I think that's just part of lower-division NCAA athletics. For me, it's been busy with double the responsibilities, but I'm doing everything I can."
Kelton has made three coaching hires and is in the process of three other new hires since taking over for former athletic director Kim Graham. He's made all of these decisions while still coaching the football team through the spring and summer.
Seven head coaches have left Shorter in some way in the past year, leaving each program with question marks.
While women's basketball coach Vic Mitchell resigned after 27 years in June, the softball program saw its second coach depart in as many years. Then the school decided to discontinue its wrestling program after the spring semester.
It's provided quite the hurdle for Kelton, who had never served as an athletic director in his career before this year.
"It is unfortunate that we had some people leave," Kelton said. "We love everybody who has contributed to Shorter and has helped us along the way. But things happen, changes have been made, people are bettering their lives and that's all we can ask."
The biggest hire of the summer so far came last Wednesday, when Wade Anderson agreed to become the Hawks' new men's basketball coach. Anderson comes to Shorter after spending 10 years as an assistant at West Florida and Christian Brothers.
On June 23, the men's soccer program hired Paul Furey, who has already spent 25 years as a head coach. On that same day, Shorter announced new women's lacrosse coach Julianne Pham, who spent last year running the Munich Lacrosse program.
While these hires all seem to be unique, Kelton said he hopes each of them brings energy to whatever they coach. With so much turnover going on in the athletic department, the interim AD said he needs coaches who can appeal to the community immediately.
"We are going to have people who are going to get in the public eye," Kelton said. "We want all our coaches to engage with the community, engage with alumni and engage with people in Rome who have been reserved about Shorter the last few years. Because we want that support back."
The remaining three hires in women's basketball, golf and softball will be made by the end of the summer, according to Kelton. With football season around the corner, he has had plenty of people with him looking over potential candidates.
In between making hires and coaching his own team, Kelton said he's talked to as many fellow athletic directors as possible, hoping to gain insight. Whatever can help Shorter in this time of change, Kelton is ready to hear it.
"The coaches we have already hired I think are bringing certain energy to Shorter," Kelton said. "They also are very good coaches who will continue to be impactful on student-athlete's lives and the community at large. And that's what we need to be successful."