COLLEGE FOOTBALL: Vikings staying focused amid 1st playoff game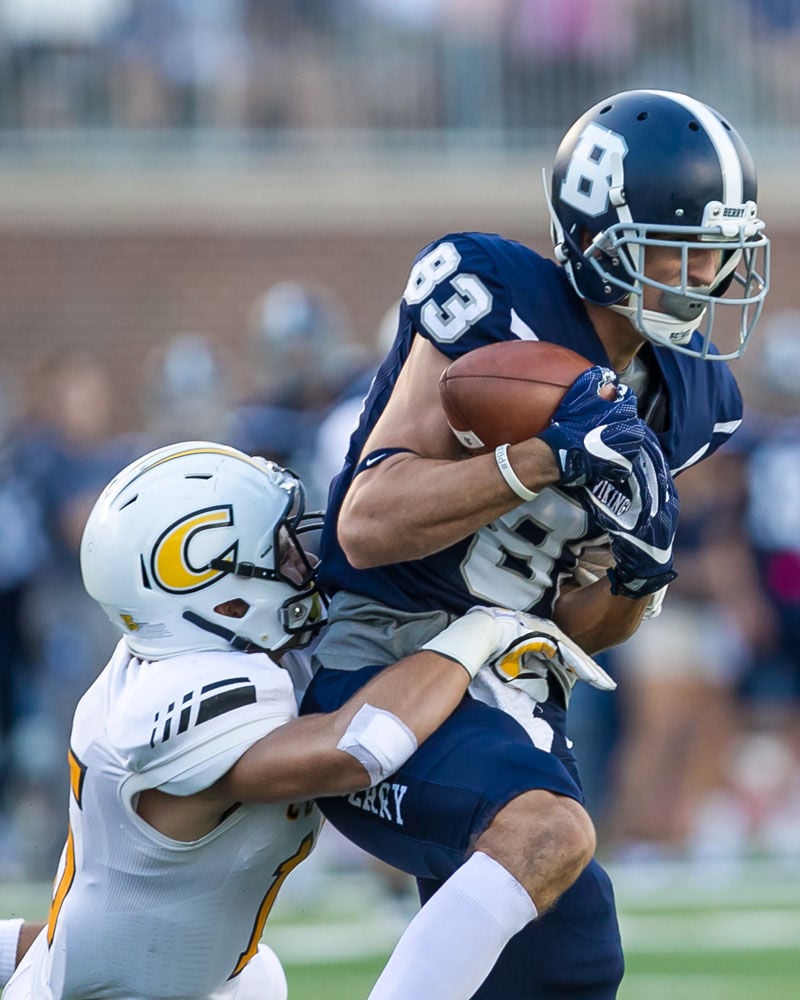 In the week leading up to Berry College's biggest game in program history, head football coach Tony Kunczewski has felt a buzz.
It comes through in the congratulatory texts he has received since the Vikings completed the regular season undefeated and in the feeling at each practice.
The excitement around campus is clear, but none of that buzz is affecting his or his team's preparation as they face another first on their journey.
The Vikings play in their first ever playoff game today at noon as Huntingdon College visits Valhalla for the first round of the NCAA Division III playoffs. And as the stakes have gotten higher, Kunczewski has felt it's best to keep things the same.
"There's a time to reflect on these things, but right now we have to focus on the task at hand," Kunczewski said. "But I don't worry about our guys falling into that trap."
It was a satisfying experience for the team just to see its name called during the football selection show on Sunday. Berry failed to get an at-large bid last season after going 9-1, but winning the Southern Athletic Association championship secured an automatic bid for this year's playoffs.
The Vikings were most excited, however, to see they were hosting at Valhalla, a place where they've lost only once in the last three years.
Kunczewski went to the playoffs during his time as defensive coordinator at LaGrange College but has never been on a team that has hosted a game before.
The game will also be available for streaming through the NCAA website.
"It is great if people are watching us, but that's not what we are focused on," Berry quarterback Slade Dale said.
"The wins come when people are not in the stands. So we are just going to focus on us, and whoever is watching can watch."
While Berry (10-0) has never played Huntingdon in an actual game, it has scrimmaged the three-time USA South champion Hawks annually during preseason preparation.
The two teams battled a week before this season at Heard County High School.
The Hawks (9-1) run a high-powered but well-balanced offense that has recorded 30 points or more six times this year.
Senior running back Vic Jerald has tallied 945 rushing yards for the season, while receiver Otis Porter has 47 catches for 1,086 yards.
Berry defensive lineman Mamadou Soumahoro and the rest of the defense have seen their share of powerful offenses. Like the opponents that have come before, the Vikings hope to take away something the Hawks rely on in tough moments.
"First things first, the battle begins at the front," Soumahoro said. "We just have to do what we can to stop the run, make them one-dimensional and get after the quarterback."
Kunczewski knows there's going to come a moment when he can reflect on all of this, but for now its back to the game plan. No changes in the practice, just the same work ethic that has brought the team this far.
And hopefully, all of the buzz that has been felt throughout the week can translate to a large crowd today.
"We hope all of Rome is out to support us on Saturday," Kunczewski said.
"We've been fortunate to have not only the Berry community but people from all around Floyd County come to see us play. And we could really use them."
Tickets can be purchased at the stadium at $10 for adults and $5 for students, children under 12 and seniors. Admission is free for children two years or younger.