COLLEGE FOOTBALL: Berry looks for more as it prepares to start 2017 season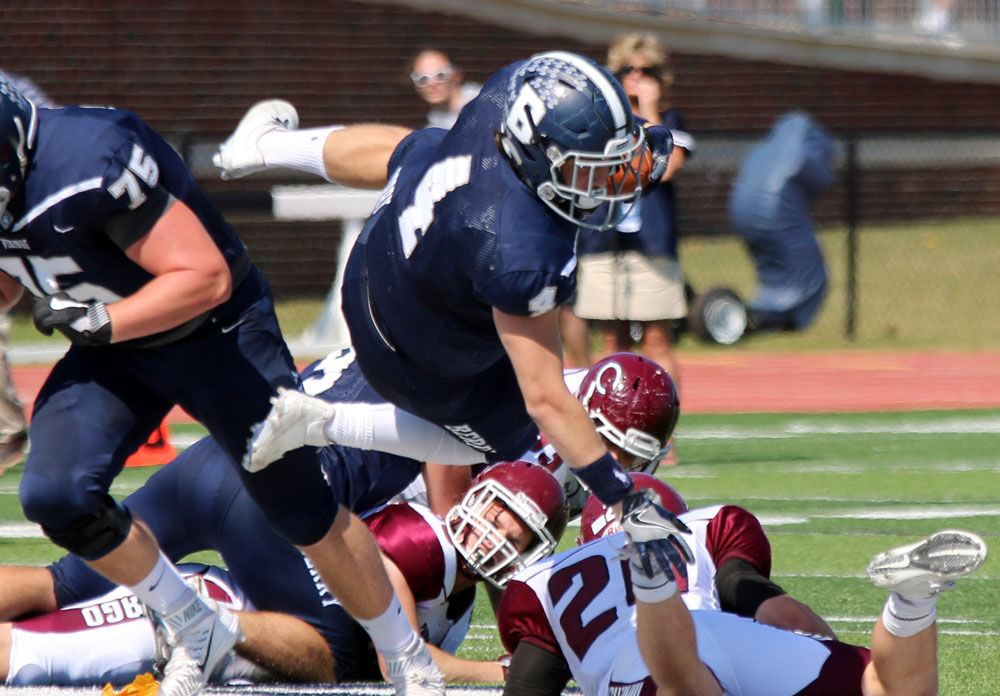 A new banner hangs at Valhalla, honoring the 2016 Berry College football team's Southern Athletic Association co-championship.
But as this season's team practices on the turf at Bob Williams Field a few days before the first game of the season, the banner goes unnoticed.
While many of the players practicing Wednesday evening were a part of that 9-1 season, this is a different team with a different feel. This year's Vikings squad is looking toward the present and beyond, ready to make its own mark in the school's short but eventful history.
"They see that banner and say, 'That's not us.' This is a new team and a new mission." Berry head coach Tony Kunczewski said. "We have an interesting mix of guys this season, so it's going to be fun to see how this team plays out."
Berry begins its fifth season Saturday when it travels to take on Maryville College, and expectations are certainly up. The Vikings went 16-4 the last two seasons and finished in the top three of the SAA standings both years.
One difference between those teams and this season is depth, as Kunczewski has seen more and more freshmen step up. The previous two years have included seniors and juniors who had been with the team since its first season.
Berry still has veteran leaders, with quarterback Slade Dale, fifth year receivers Trey Ciresi and Josh Bullock and running back Austin Lowe. But being able to see some competition in almost every position is something Kunczewski welcomes.
"There's just a lot of skill from the freshman class, and a number of guys are going to be playing Saturday and some might start," Kunczewski said. "Having this new level of depth is something we haven't had a lot of, so we welcome it."
Unfortunately for those freshmen, their first game is no pushover.
While Berry snuck out a 34-33 win against Maryville last season, the Scots have won 31 games in the past four years and have gone 15-4 at home in that span.
The last time the Vikings visited Maryville they lost 43-17, and Kunczewski wants to make sure his team is completely equipped for a physical start to the season.
"The important thing in any game, but especially road games, is taking care of the ball and special teams," Kunczewski said. "We've played in 10 one-score games in the last two years, and all of them usually come down to a turnover or special teams play."
Whatever the result, Kunczewski trusts that his team is going to move on and place sole focus on its next opponent. While this isn't the 2016 team hanging on the banner, the 2017 team is thankful those standards have been established.