COLLEGE FOOTBALL: Berry leads All-SAA picks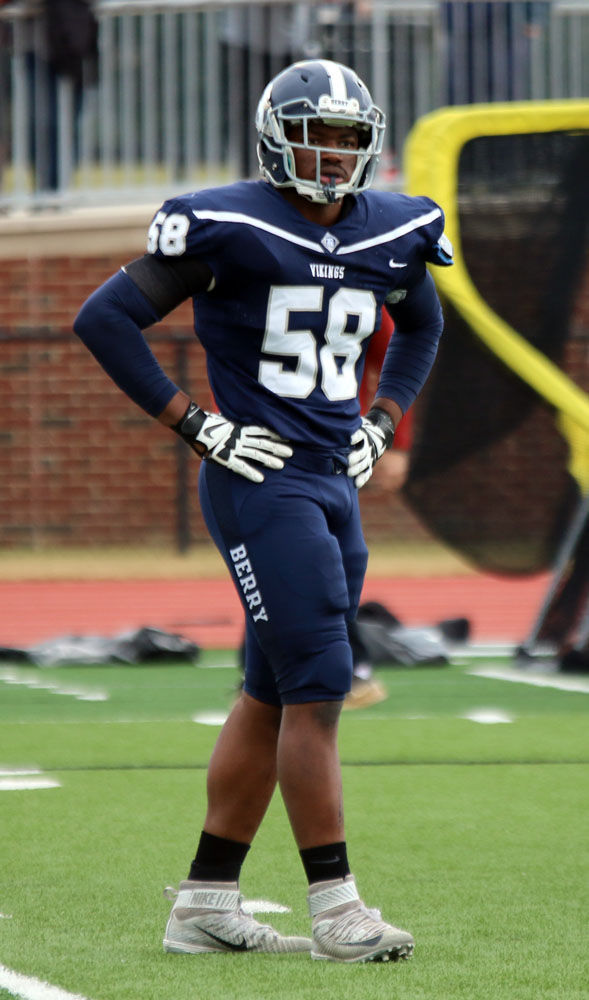 The rise of the Berry College football program, as well as the talented players who helped it happen, have been recognized by its conference before. But this season has raised the bar.
A total of 21 Berry players were selected to the Southern Athletic Association All-Conference Team released on Monday. The number, along with the nine Vikings selected All-SAA first team, is a program record.
On top of that, Berry head coach Tony Kunczewski was named the league's coach of the year for the second year in a row and senior defensive lineman Mamadou Soumahoro repeated as the conference defensive player of the year.
The honors come as the No. 18 Vikings prepare to make the trip to St. Paul, Minnesota, this weekend to face No. 4 St. Thomas in the second round of the NCAA Division III playoffs. Kickoff is set for 1 p.m. on Saturday at St. Thomas' O'Shaughnessy Stadium.
Joining Soumahoro on the All-SAA first team are Berry's Mason Kinsey, Tristen Cline, Nick McGee, Trey Gregory, Tyler Bertolini, Brandon Palmer, Austin Haight and Kevin Grier.
Second team selections include Jacob Collins, Trey Ciresi, Jacob Bishop, and Jonathan Fisher, while David Haithcock, Michael Wenclawiak, Slade Dale, Austin Lowe, Bryson Lamboy, Justin Akin, Antonio White and Jackson Putnam are honorable mentions.
Kunczewski, who has led the Vikings all five seasons, continues to push the Berry football program to new heights. After winning the SAA championship outright this season, the team currently sits at 11-0 after defeating Huntingdon College in the opening round of the NCAA Playoffs last Saturday, also a program first.
Under his leadership, the Vikings led the SAA in nearly every defensive category during the regular season and shattered numerous program records on all sides of the ball.
Soumahoro, a native of Lawrenceville, continued his record-breaking pace from a season ago, finishing the regular season leading the SAA with 11.5 sacks. He currently sits at 13.5 sacks, 51 tackles, 14.5 tackles for a loss and two forced fumbles, making him one of the top defensive linemen in Division III.
The four-time All-Conference selection anchors a defensive line ranked No. 5 in the nation with 62.9 rushing yards allowed per game and just 16.0 points allowed per contest. Soumahoro holds every pass rushing record in Berry history with 37 career sacks and 48.5 tackles for a loss.
Kinsey, a sophomore wide receiver from Demorest, became the first wideout in Berry history to pass the 1,000-yard receiving mark for a single season and also broke Berry single-season records with 15 receiving touchdowns (No. 7 in Division III), 67 catches and 6.09 receptions per game.
Cline, a senior tight end/H back out of Snellville, has 10 receptions for 196 yards and a score this year, but is also a premier special-teamer with a career-best 10 tackles.
McGee, a junior offensive lineman from Evans, helped Berry to program records in nearly every offensive category this season. Gregory, a sophomore kicker from Griffin, is currently ranked No. 2 in the country with a 92.3-percent field goal percentage (12-of-13) and set Berry records this year with 46 PAT kicks made, 12 field goals made and his field goal percentage.
Bertolini, a senior defensive lineman from Ellijay, posted a career-best 33 tackles and six tackles for a loss. Palmer, a sophomore linebacker out of Columbus, had a breakout season for the Vikings racking up 35 tackles, six sacks, a fumble recovery and a forced fumble, as well as 10.5 tackles for a loss.
Haight, a senior defensive back from Hoover, Alabama, tied the Berry record with three interceptions on the year and set career-highs with 42 tackles and 16 pass breakups. Grier, a junior defensive back from Lilburn, collected 37 tackles and six pass breakups on the year to go with a career-best four tackles for a loss this season and one interception.