COLLEGE BASEBALL: LSU baseball player Brody Wofford keeps his hometown on his mind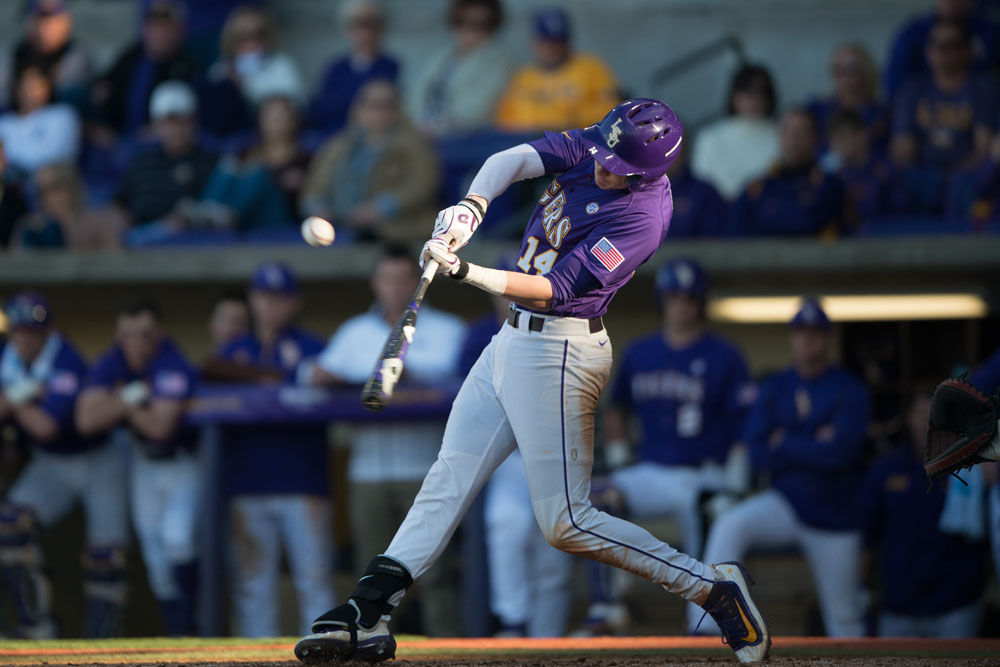 When he got the chance to choose his walk-up song for the 2016 LSU baseball season, Brody Wofford had no trouble making a decision.
The Rome native chose "Country Boy's World" by Jason Aldean, a song that mentions his hometown in the first line of the chorus. The song is a tool, used to tell his new fans about the community that got him started.
"There was no doubt about what I was going to choose," Wofford said. "I care about Rome; it's where I'm from. Every time I go to an at-bat I want to let people know where I come from and how hard I've worked."
Wofford is in the thick of his freshman season with LSU, a program coming off a College World Series appearance last season. The team is scheduled to finish its third SEC series today at Auburn, and Brody's father, Todd Wofford, along with many other Romans, made the trip.
The Model alum has spent his freshman season in and out of the starting lineup, most recently in the designated hitter position. And if his career in Rome is any example, Brody can only improve through his work ethic and pretty swing.
The "perfect swing" is something completely natural, according to Todd Wofford. A former Shorter baseball player, he recalls seeing the swing when Brody was 3 years old with his hips and wrists perfectly align.
Brody, who went to Cartersville High School for two years, got his big break entering his junior season at Model after a growth spurt caused him to grow to almost six feet.
Despite the radical change, Blue Devils coach Brett White never saw Wofford need to adjust to the larger body.
"He was athletic enough as to where there wasn't a transition, and you couldn't tell," White said. "He never went to that clumsy stage like some kids do; he just started to hit the ball harder and just kept producing."
The easy transition resulted in two consecutive seasons with a batting average above .500 and a big interest from top schools, with Wofford ultimately choosing LSU.
After a competitive fall season, LSU coaches told Wofford to put on some weight before spring. The freshman took the message to heart and spent every second he could getting stronger in his five weeks back in Rome.
Whether it was deer meat, sweet potatoes, or a heavy supply of oatmeal, Brody consumed four meals and 6,000 calories a day. He returned to LSU 15 pounds heavier.
"He slept, he would lift, he would hit and he would run. That's all he did for five weeks," Todd Wofford said. "I mean, I would wake him up in the middle of the night with peanut butter."
All of this work, in Rome and Baton Rouge, culminated opening night when LSU played Cincinnati. With the Tigers down two runs and down to their last out in the 10th inning, Wofford stepped up for his first career at-bat.
"With a runner on third and two outs, all I was thinking was, 'don't strike out, just put something in play,'" Brody said. "I was just looking for something over the plate I could put in play."
He hit an RBI single to cut the deficit to one run and later scored the tying run to keep his team alive. The Tigers went on to win the game, and the kid from Rome had proven himself as an asset to the club.
Wofford certainly misses some aspects of Rome life, telling his father his disappointment in missing deer season in the fall. But with teammates like Jordan Romero, a Baton Rouge native, he's begun to acclimate himself in the festive yet humid state of Louisiana.
Wofford is one of many first-year players at LSU getting valuable playing time after the Tigers had to replace nearly their entire starting lineup from 2015. He said this makes the transition easier, with so many teammates going through the same learning process.
But the biggest boost comes from people like his dad, and other friends and family, who have made the trip to LSU's Alex Box Stadium to see him play. And when Wofford steps into the batter's box, they'll get a quick reminder of where it all started.
"When you're in Alex Box, with 10,000 people screaming and they announce his name, as a Dad, it gives you cold chill bumps when you hear that song come on," Todd Wofford said. "You can say, 'That's him, that's Brody. He's from Rome, Georgia."