Shannon Pollitz named 2013 Teacher of the Year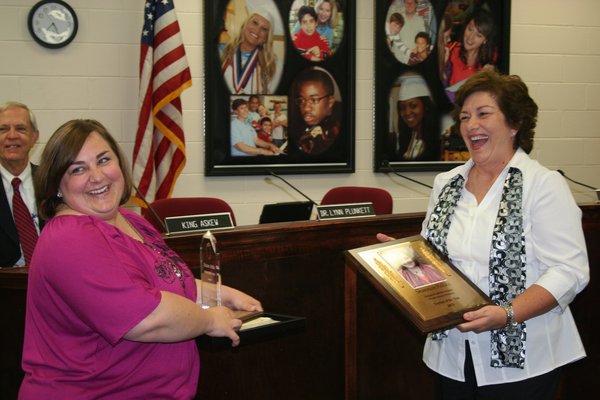 For Shannon Pollitz, her journey as an educator began when she was just a child.
As both of her parents are educators, the 2013 Floyd County Teacher of the Year told a packed boardroom Tuesday night how she would go to their classrooms as a young girl and pretend to teach. Now the Pepperell Middle School gifted teacher said her passion for teaching helps to instill in her students a thirst for learning.
And when Lynn Plunkett, superintendent of Floyd County Schools, announced that 10 years ago Pollitz's mother Connie Pollitz was named the Floyd County Teacher of the Year, the room rang with applause.
Connie Pollitz, a Coosa Middle teacher, said her daughter had all the makings of a classroom leader from the beginning. "Shannon was always playing the teacher," she said after the meeting. "She was always the little bossy one telling everybody to sit down. She had many clubs formed in the neighborhood, and you always think, 'Yeah, she's just mimicking mom and dad.'"
But Shannon Pollitz was doing much more than just mimicking, Connie Pollitz continued. She said that after her daughter taught middle school-aged children in church youth groups during her college years, she felt in her heart that she was destined to follow in her parents' footsteps.
"I'm very excited," Shannon Pollitz said of her award. "Throughout the whole process I wasn't nervous at all. It's my passion; it's what I love. I feel so comfortable in that."
Her father, Henry Pollitz, a retired educator, said he was immensely proud of the two leading ladies in his life. "I've always told both of them, the best two teachers I've ever seen teach were my wife and my daughter," he said. "They're both really fantastic teachers."
Connie Pollitz recalled her Teacher of the Year experience a decade ago.
"I remember them saying, 'We would like to interview you,' and I said 'No! Talk to my daughter! She's a teacher,'" she said, laughing. "I didn't want to be interviewed. I don't like the spotlight; I like that spotlight to be on someone else."
But her daughter, she said, is perfectly at ease being in the spotlight, which translates into the engaging command she has over her classroom. And like her mother, Shannon Pollitz has a knack for teaching and nurturing what they both called the "invisible child."
"I have always just had an ability that I describe as God-given to be able to work with students that might be considered 'at risk,'" Shannon Pollitz said. "And so for years I've done that. Now, as a gifted teacher, I'm still able to reach some of those kids. Just because they're in the gifted program doesn't mean that they don't have their own set of problems."
Though Shannon Pollitz said her lessons centered on teaching students how to think critically, she's in it for more than just "reading, writing and 'rithmetic."
"I really am interested in and focused on the whole child," she said. "Yes, I want them to learn the content and the standards and the curriculum, but my main focus is, in order for them to be able to learn, they have to feel safe. They have to feel like they can take a risk and they can fail and they can learn from their mistakes. When they feel that security, then they're able to grow as a whole person."
 The board approved the August 2012 interim financial report, with 16.67 percent of the fiscal year completed. Plunkett said revenues are at 11.63 percent of budgeted revenues and that property tax collections should increase during the month of September since tax bills have now been mailed. The expenditure budget is at 17.26 percent of budgeted expenditures and 0.59 percent or approximately $544,000 over budget, which she said was normal.
 The board adopted a resolution recognizing Nov. 6 as Retired Educators Day in Georgia. The day was proclaimed by Gov. Nathan Deal to honor the contributions of the state's retired educators. The Board gave special recognition for the community volunteer efforts of the Floyd-Rome Retired Educators Association.
 The board approved changes in personnel, namely that Eric Waters, principal of the Floyd County College and Career Academy, would temporarily assume the roles of both principal and CEO upon Frank Pinson's retirement.