Rome referee managing investments while whistling fouls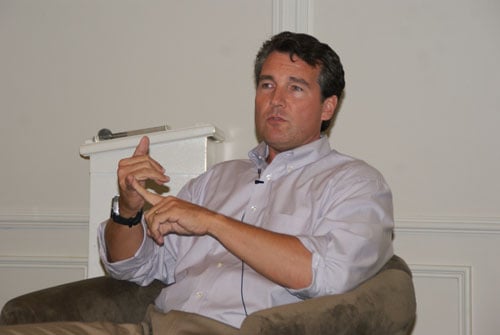 It's that time of year when Rome investment banker Doug Shows, to quote an old Beatles tune, gets by with a little help from his friends. This time of year, his friends include his co-workers and devices he uses to keep in touch with them.
Shows, vice president of investments and insurance at Heritage First Bank in Rome, is a highly regarded college basketball referee.
Last year, Shows was one of three offi-
cials who called the NCAA championship game between Connecticut and Butler.
On Wednesday night Shows called a game between the University of South Florida and California in Dayton, Ohio. This weekend, he's working games today and Sunday, though his contract with the NCAA prohibits him from disclosing the location in advance.
So while Shows is all over the country running up and down basketball courts and blowing his whistle, who's managing the office back home in Rome?
"I have a great team here at Heritage First, and they've been very supportive and very helpful," Shows said. "Obviously we use a lot of technology with laptops and iPhones and obviously the telephone. It's worked out very well."
The Investment and Insurance office at Heritage First opened last September. "I do all of the investments and insurance for our current customers as well as attract new customers with our financial planning."
Shows expects to hear Sunday night or Monday if he'll be assigned to Sweet 16 action.
Each conference recommends a number of officials from which the NCAA selects 98 to officiate the tournament. During the regular season, Shows calls games in seven Division I conferences, primarily the Southeastern Conference, the Big East and the Big 12.
He's not sure which conference, or conferences, submitted his name for tournament games. "It could have been one, or five," Shows said.
Shows moved to Rome in 1994 to take a job at Southeastern Cardiovascular Institute but moved into financial planning a short time later.