Pepperell Middle's Pollitz named finalist for 2014 Georgia Teacher of the Year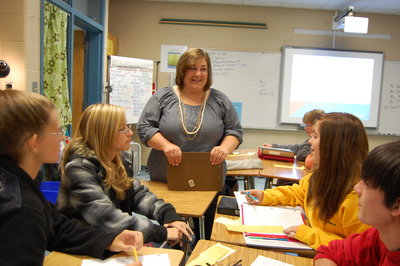 Shannon Pollitz was dancing Monday in the Old Post Office in Washington, D.C., when she learned she was a finalist for the 2014 Georgia Teacher of the Year.
Click here to read a story about Pollitz being named Floyd County Schools' teacher of the year.
Pollitz, Floyd County Schools' teacher of the year, was with a group from Pepperell Middle School touring the nation's capital. Looking down to a lower level, Pollitz saw several people from her school filming her. She'd been making videos throughout the trip, and she thought her group was joining in.
"I started dancing," Pollitz said. "Then 40 of them or something yell, 'Congratulations, Mrs. Pollitz, Teacher of the Year finalist!'"
The 12-year teaching veteran is one of 10 finalists from across Georgia in the running for the state-wide teacher of the year award. The finalists will be interviewed and evaluated by a team of judges. They must also prepare a speech for a spring luncheon. The 2014 Georgia Teacher of the Year will be announced in May.
The Teacher of the Year usually takes a year off from teaching and works with the state's Department of Education. He or she speaks to groups across the state, works with other teachers in his or her field and attends state conferences.
Pollitz, 34, teaches a gifted language arts class for eighth-graders at Pepperell Middle. She said her curriculum is one that encourages student-centered learning. Her most recent unit focused on utopias and dystopias.
"It's highly interactive," Pollitz said of her classes. "I encourage students to critically think. I really feel like God created me to do this job."
Both of Pollitz's parents were teachers, and both were either Teachers of the Year for their school or the county.
A Rome native, Pollitz attended the University of Georgia before returning to Floyd County to teach. She began teaching in 2001 at Model Middle School. She then taught middle school students in Morocco, returning to Georgia after a year.
Her year abroad affected Pollitz, and she makes a point of exposing her students to the world.
"There is more out there," she said. "We spend a lot of time thinking outside our comfort zone."
Tim Hensley, assistant to Superintendent Jeff Mc Daniel, said Pollitz was the second Floyd County schools teacher in two years to make the statewide finals. Alana Ellenburg, a teacher at Pepperell High School, was a finalist last year.
"It means we have some excellent teachers that teach for us," Hensley said. "It's a credit to our teachers and their training."
2014 Georgia Teacher of the Year Finalists (in alphabetical order by district) Teacher, Subject, System, School
Tamika N. Ball, Mathematics
Atlanta Public Schools, D.M. Therrell School of Health Sciences and Research
Brandon A. Mitchell, Physical and Environmental Science
Barrow County, Winder-Barrow High
Jemelleh Coes, English Language Arts and Reading
Bulloch County, Langston Chapel Middle
Terrie L. Ponder, Social Studies
Carrollton City, Carrollton Junior High
Jeanine Wetherington, Gifted K-5
Colquitt County, Norman Park Elementary
Shannon Pollitz, Eighth Grade Gifted English Language Arts
Floyd County, Pepperell Middle
Barbara Rosolino, English Language Arts, AP Literature and Composition
Henry County, Eagle's Landing High
David DuBose, Advanced Music, Band and Instrumental Music
Marietta City, Marietta High
Dr. Polly S. Holder, Spanish
Walton County, Walnut Grove High
Tanya Smith, Physical Science and Gifted/Accelerated Chemistry
Wayne County, Wayne County High
The Georgia Teacher of the Year Program is sponsored by United Healthcare.