GUEST COLUMN: We dodged a bullet ... maybe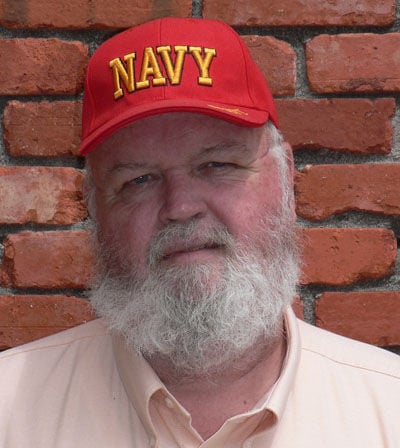 Maybe we have the wrong impressions of what a ghost town looks like. It's easy to visualize a western town, with a bunch of rundown buildings standing empty. There are tumbleweeds rolling down the main street, doors creaking from the wind, and not a person in sight or anywhere around. I saw all of that on Gene Autry movies, once upon a time.
But that's only half the picture. Many ghost or boom towns simply have nothing left. They've been turned back over to the forest and the elements. There may be a few people living in the area, some of which may recall the time when the town was prosperous and booming.
Last week I mentioned the Dalton, Rome, Selma railroad that ran through the southern part of Cherokee County, Alabama. Many Northern capitalists began lathering at the prospect of being able to haul the iron ore in the area out by rail.
The Round Mountain Furnace wasn't producing but two and a half tons of iron a day, but proved it was there. Furnaces were established at Etna (in Polk County, Georgia), Tecumseh, Stonewall and Rock Run, all on the rail line. Snuggled neatly between Tecumseh and Rock Run was the community of Bluffton.
As mentioned, Northern capitalists could see great things happening in Bluffton. They sank a little money into the project and bought 1,500 acres of land around the community. It became a boom town almost overnight. There were rows of houses for the furnace workers to live. They offered jobs to poor whites and African-Americans. These were non-union jobs which benefitted the mine owners and provided decent wages for southerners of the day, similar to the textile industry yet to come.
There were a row of stores that sprang up quickly. American Arms, under an original patent of a Fox executive, made double barrel shotguns for a few years. I talked to a friend who told me he saw one in Cave Spring that had Bluffton on the butt plate, also a factory to make wheels for railroad cars and track rails. Several of Rome's foundries did just that at about the same time.
Even more interesting was that ground was broken for a college to be built in Bluffton. The University of the South was scheduled to be built here, but was never started. I understand the cornerstone is still in the woods where it was placed.
One thing that was finished was the Signal Hotel, the first establishment in Cherokee County to have electric lights. It was a grand place, and housed many a celebrity over the quick life of Bluffton. Rudyard Kipling supposedly visited the Signal, and was there for a short stay. In trying to document this, I can put him in the United States on at least two occasions during their boom years, but not in the hotel, which doesn't mean much. If he was in Bluffton, he almost had to have come through Rome, as did Ambrose Bierce (Union Soldier) from another direction in 1864.
It is mentioned in Cherokee County History, and I have no doubt it's true. And in 1888 he had a big year writing four or five stories. I wanted to try and figure if he might have written one while in Bluffton between 1888 and 1892, and if so, which one. I remember my wife crying while she watched the "Jungle Book" (now I'm in trouble). Some of his stories were touching.
It was also said that Edgar Allan Poe was a visitor. If he was, he was a raven or something else. Ed died way before the hotel or town was built.
Two things that link Cherokee County and Floyd was the Coosa River trade in the Northern part of their counties, and the railroad and iron furnaces in the South.
Nothing I've said in this piece is a surprise to Cherokee County historians. But it could be at least a refresher, and news to those just across the Georgia line.
While Bluffton was growing leaps and bounds, with over 8,000 residents, and more coming every day, a strange thing happened. Another little community that didn't exist during the War Between the States also found iron in their ground. They merged a couple little communities and named the place after a manufacturing giant in England. They called it Birmingham. It had a better grade of ore than did Bluffton.
The investors chased the money, and moved their operation to the new place. Workers followed, or in some cases led the way. Many folks tore down their houses and stores and moved them to Rock Run or Spring Garden, still on the rail line.
So, did Bluffton die as fast as it was built? Not exactly, it still has the Salem Baptist church in operation and there are a number of folks living in the area (not at all like the old western ghost towns).
Heck, there's still iron in the ground. Will it ever be useful? I don't know, but we once said fracking was too expensive to get oil from the ground.
The Bluffton Post Office was in operation until 1936. Bluffton hung on for a few years, as did the other furnace communities. Even as they were fading away, the Great Depression of the 1930s hurried their demise.
Our railroad at the time of the Kipling visit was making four trips from Rome to Selma a day. At that time no one could visualize the little community of Birmingham having 212,000 residents in 2010, or over a million in its Metro area.
Now if that had been Bluffton instead of Birmingham, and Cave Spring is 9.2 miles from where Bluffton was, well you get the picture. We would be on the outskirts of a split city between states, much like Bristol, or Bluefield.
I kind of like it like this. I think we dodged a bullet. As an amateur historian, I would like to see the State of Alabama clean, clear and pave that railroad track. I can visualize story walls in every furnace town, from Moses Stroup founding the furnace at Round Mountain, to General Sherman's interest in the iron fields, to Yankees under General Blair attacking and putting them out of business for a number of years, and the Signal hotel with its healing lithium springs water. Maybe the spring could be opened.
If you look at the Silver Comet trail, or the Ladiga trail, you can see they bring in quite an economic impact. I have to believe that there are bike riders and hikers (Pinhoti trail crosses near Bluffton) that have an interest in little known historical facts. I actually prove it on a regular basis.
There is one other thing. There are many in Cave Spring that hear the train rumbling through town at times. People, you have to believe without question. The latest told me last Sunday on the river cruise she had heard it. I wonder if folks living along the furnace areas between Cave Spring and Piedmont ever hear it? Let me know if you have.
Do you suppose they're still riding to and from the iron fields? Is Kipling on the train, or Poe?
Mike Ragland is a Cave Spring city councilman and a retired Rome police major. His most recent book is "Living with Lucy." Readers may contact him at mrag@bellsouth.net or mikeragland.com.