GUEST COLUMN: The only North American bird identified by name as 'wild'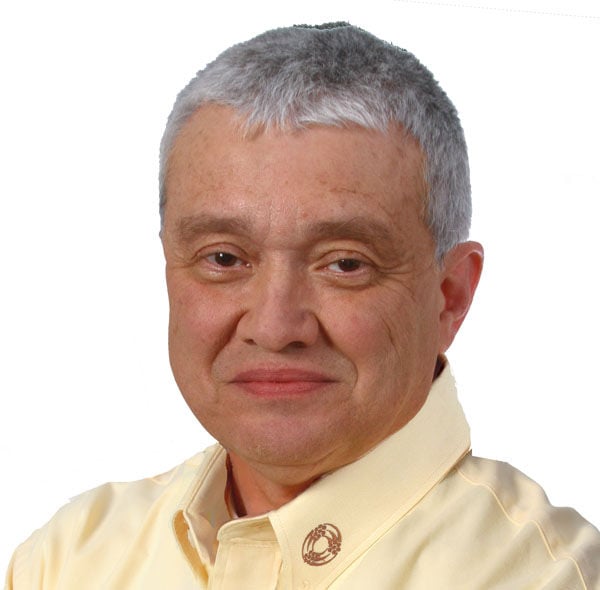 Hardly a Thanksgiving goes by without someone mentioning Benjamin Franklin's affection for the Wild Turkey. Not only is it North America's largest ground nesting bird, the male turkey's head can be red, white and blue. It's no wonder that he wanted to make it our national bird.
The wild turkey is the only bird species in North America identified by name as "wild." Perhaps the name serves to distinguish it from the domestic variety, or maybe it is meant to denote the turkey's most conspicuous characteristic — it is profoundly inconspicuous. Regardless, a strutting wild turkey is the bird that decorates the napkins on your Thanksgiving table.
A streamlined version of the barnyard turkey, it has a comically small, naked, blue head covered with wart-like caruncles, a neck with a bulbous dewlap, bronze feathers, and rusty tail tips. A fleshy appendage called the snood projects from the top of its bill. Mature males, called toms or gobblers, also have a beard of long bristle-like feathers that dangles from the breast and a sharp spur on each leg. Hens are smaller, with a smaller snood, and only occasionally do they have a beard.
For most of the year turkeys can be found roaming the woods in one of four different kinds of flocks. The toms hang out together and have little to do with the females and the kids. Hens that don't successfully mate or that lose their brood also form a flock and wander the countryside feeding and talking about how rotten men are. The third flock is the family. It consists of a mother hen and her offspring. As the mother hen's young males — jakes — get older they begin to act like loudmouthed teenage boys, whereupon she throws them out and they join up with the fourth kind of flock that is made up of jakes. These young punks of the turkey world have only one purpose — to count the days until they become toms. The girls stay home with their mother.
Springtime is a delirious season for turkeys — the toms gobble to attract the hens and when the two flocks find each other the gobblers start showing off. They fan their tails, fluff out their feathers, and strut around like a young John Travolta. But turkeys are more sophisticated than you may think. The meeting of the hens and the toms doesn't turn into a wild turkey orgy. The dominant male is the first to mate and the other toms only mate when he is "occupied." The hens only breed when they are in the mood.
After mating, each hen goes off by herself, scratches a shallow depression in the ground beneath a shrub, a windfall, or a low branch and begins to nest. She will lay one egg a day until a clutch of ten to twelve eggs is complete. Only then will she begin to incubate her eggs. It is important that all eggs hatch within a day or so of each other because turkey hatchlings come into the world fully feathered, with their eyes open, and ready to rock and roll. After her eggs hatch the hen leads the hatchlings away from the nest and broods them on the ground until they begin roosting in trees. She protects her poults, but they must feed themselves. Insects are the first food they choose. Protein rich bugs help the young birds grow fast and, after a few months on an insect diet, they are eating seeds, fruit, and acorns and beginning to take on the aspect of adult birds.
In general immature birds display little of the youthful enthusiasm seen in young mammals. Young turkeys are born with an intriguing maturity. They are heirs to a million years of accumulated wisdom linking the generations in an indestructible chain, defying mortality. Understanding this can be a source of gratitude, which is why, this Thanksgiving, as on all others, Wild turkeys can be savored as a feast for the eye, the spirit, and if you are lucky enough to live where there is a fall turkey season, maybe the stomach.
Happy Thanksgiving.
Rome native Stanley Tate sits on the Berry College Board of Visitors. He retired as executive vice president and chief environmental officer of Southwire and now writes a nature column that appears in several Georgia newspapers. Readers may write him athenryt@bellsouth.net.