GUEST COLUMN: The haunting story of Baby Floyd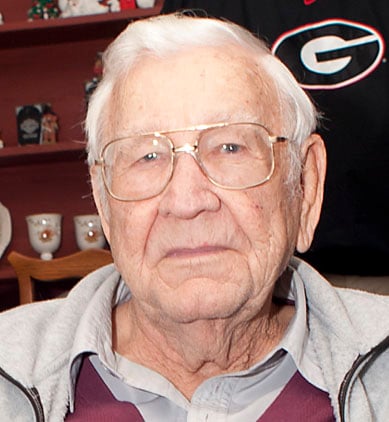 On this Friday night Duke and I decided to stop at a drive-in and get a bite to eat. The drive-in had girls on skates to wait on you. We had ate there before and had got to know some of the girls. We pulled in and a girl we knew brought out a order to a car next to us. I watched as she put the tray in the window. The person in the car reached out and grabbed her, and she let out a scream and threw the tray down. There was a hot cup of coffee on the tray that poured into his lap. He let out a word that curled my hair. It was one of the most vulgar words that I had ever heard. He came out of the car and grabbed her telling her what he would going to do to her.
I came out of the car at full speed and grabbed him. I threw him back against his car. In not so gentle words I let him know that he was not going to do anything to her unless he went though me first. I stepped back looking him over. I remember thinking "I have had it now," as he was twice my size. His face puckered up and he let go with a blast of cuss words. I stepped in to him and said, "Shut up or I will shut you up." He didn't move, just stood watching me. It was a standstill, he stood watching me and in turn I was watching him. I stepped back and waited. It didn't look good, his 200 pounds against my 130. Duke stood by watching the other boy making sure he didn't become involved.
"Here, here what's going on?" I heard someone say. I turned and saw that Peggy, the girl, had gone and got the manager. He stepped between the two of us. He called the name Herman and said, "I have told you to stay away from here. I am telling you now if you ever come back on this lot I will have the police on you. Now get," he said. Herman left the lot with his tires smoking. He wasted no time getting off the lot. I watched and saw him parked on a lot across the street. The manager went back inside and we told Peggy that we would take her home. Peggy and a friend came out at closing time and we headed for her home.
Once in the car Peggy began to tell us about Herman and how she had dated him once and she told him she would not go out with him after that. Herman was a groper, he couldn't keep his hands to himself. He would come to the drive-in where she worked and would order. When she brought out the order, he would grab her. The manager had gotten on him and told him to stay away. Herman was the kind that listened to no one. I remember reaching under the seat and feeling the jack handle. Words that my Mother would say came back to me. The words were, "Those who cannot listen shall feel."
We had left the street with the lights and onto a small dark road. I told Duke to stop. He pulled over and I rolled down the window so I could see a house that looked like it had been burned. It was one of the old types that had columns in front. It was a two story and I could see that the back of the house was burned. I looked at Duke and said
"Wow, I bet that old house is full of ghosts."
Peggy spoke up saying, "That was our old home place. The house burned down a few years ago. As for ghosts, yes, it has ghosts. Some of my people got burned up in the house."
Duke started the car moving and Peggy said "this driveway." We pulled in and, to my surprise, a big man carrying a shotgun came out to meet us. "My Father," Peggy said. I looked at the big man with the shotgun saying nothing.
Read in Lonie's next column how his helping Peggy turned into his best ghost story yet. Lonie Adcock of Rome is a retired Rome Police Department lieutenant. His latest book is "Fact or Fiction."