GUEST COLUMN: The 'Ballet' of Slippy Larue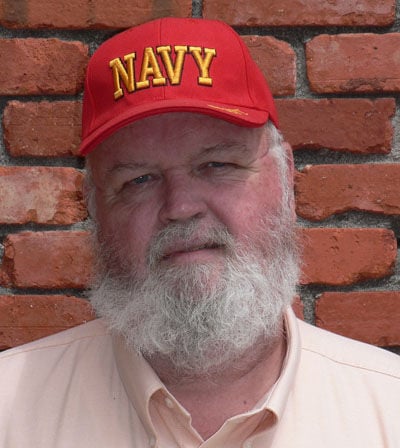 The train thundered through the night. The lightening was ferocious and rain was falling by the bucketfuls. The young man who was crouched between two boxcars was cold, wet and miserable. As he tried to work his way under one of the cars to ride the rails and escape the fury of the storm, he slipped. The train was near the little cotton mill village of Shannon in North Georgia when he fell.
He didn't wake up till well after daylight. He was alive, nothing was broken, but he was covered in scratches, bruises and lacerations. His head had bumped along the gray rocks of the railroad bed many times. He would never know it, but others would, that all his oars would never be in the water again.
A week later, he showed up in the Colons at Jug Cunningham's house. Jug's wife Sadie saw him first.
"Jug, there's somebody in the front yard running around and acting crazy."
Jug slipped a .22 caliber pistol into the pocket of his overalls and walked out on the front porch.
"Who are you?" asked Jug, as he watched the young man dash and dart, jump, accelerate and stop, pivot and pirouette. He would run down the road for a short distance and then come rushing back, stopping to squat and wave both arms like he was flying.
Jug just sat down on the porch steps and watched the young man for the better part of an hour. Sadie had eased out on the porch during that time and had very quietly sat down next to Jug. She was absolutely transfixed and enthralled at his dance.
"What's he doing, Jug?" she asked.
"Says he's chasing butterflies," Jug replied, and then added "and I think he is!"
"He's pitiful," said Sadie. "Can we keep him?" she asked.
"Sadie, he's a people, not a danged animal! You can't make a pet of a people!" Jug replied angrily.
"I'll bet he's hungry anyway," Sadie replied. "Hey you!" she yelled to the dancing young man. "What's your name?"
"Slippy Larue," he replied.
"Well Slippy Larue, when's the last time you had something to eat?" Sadie wanted to know.
"I don't rightly recollect, but probably two or three days," he said.
"I got a pot of soup on the stove," she said. "You wash up and I'll dish you up some. Jug, show him where to clean up."
During supper Sadie managed to pull the story out of Slippy one piece at a time. She found out that he had grown up on the mean streets of Atlanta. He had boxed in Golden Gloves competition as a teenager, but mostly he was a thief and a burglar. And as far as he knew he had no family.
He was good at getting in and out of even the hardest buildings, without arousing suspicion or getting caught. And that was how he got the name Slippy. The name had been pinned on him by the Atlanta Police Department.
Although he was well known by the APD's Burglary squad they never came close to catching Slippy. Until one day a girl friend set him up and got him caught.
He was given a five- to-ten year sentence in a Georgia work camp. Eighteen months into that sentence, he lived up to his name and slipped away. He caught a north bound freight and was doing pretty good 'till the storm came up and he fell off the train.
After supper, Sadie got him some old clothes and had Jug fix him a bunk in the back room of the tool shed. That was over eight years ago.
For the first year or two, Slippy followed Jug around. He learned how to work a garden, feed the chickens and gather eggs. He helped Jug make corn whiskey way back in the woods. In the fall, he gathered muscadines for wine and persimmons for beer, and he loved to 'possum and 'coon hunt in the winter. The month of July was reserved for picking blackberries. Sadie made preserves out of the blackberries and the rest was used to make some of the best wine in the county. The uptown ladies liked to sip it with imported German chocolate.
Slippy also took care of the 20 or 30 game roosters that Jug had in individual little coops. He soon found out that Jug was known throughout Northwest Georgia and the edge of Alabama as a champion breeder and fighter of game roosters. This art of the hills was better known around these mountains as plain ole "chicken fighting."
Jug and Slippy could always be found on Sand Mountain, Alabama, or one of the Georgia hot spots: Esom Hill in PolkCounty and the little community of Holland up in ChattoogaCounty were top fighting territories. Wherever there was a big fight scheduled, they would be there. Jug seemed to make a lot of money fighting and selling roosters.
Read more about Slippy's new life with Jugs and Sadie in Mike Ragland's column next Sunday. Ragland is a Cave Spring city councilman and a retired Rome police major. His most recent book is "Living with Lucy." Readers may contact him at mrag@bellsouth.net or mikeragland.com.