GUEST COLUMN: Once upon a Thanksgiving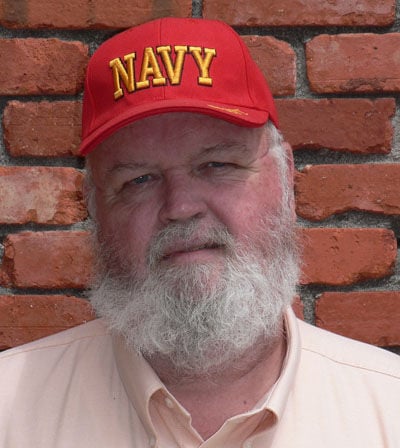 I'm writing this a couple of days before Thanksgiving, although you're reading it after the fact. When you get old you have these strange bouts of nostalgia that carry you back in time to days of yore, and tonight Thanksgiving is on my mind.
To start with, my mother had two sisters and two brothers which had been raised at 313 Park St. in the Mill Village of Lindale. My grandmother and her youngest daughter and family still lived in the "house" in the 50s. This is where my mother's family congregated for holidays. At the time, we lived at 303 Park, just a few houses away. Thanksgiving was a crowd.
The first thing I remember about it was we were out of school. In those days we didn't get a week here and there, and Thanksgiving was the first major holiday we had since school started in September (we didn't go in August, that was part of summer).
Thanksgiving morning was set aside to either go squirrel hunting, or maybe if we were lucky, we'd get to go and hunt rabbits. My cousin Joe and I wore Eden Mountain out. We had found some great acorn thickets full of squirrels, and we always got a few. But we were back at the 'house' in time for dinner.
I don't remember the first turkey we had for dinner, but I can get close. Prior to turkeys making their way to our table, we had a big hen that didn't come from a grocery store. It came from the back yard, or my Uncle Alvin would get one from the country and it would get dressed for dinner on our chopping block.
Along about that time, turkey shoots became popular as fundraisers for different clubs or charities. They popped up everywhere. Twenty, 16, or 12 gauge shotguns were used with ten people shooting in each round. It was pure luck at the time. There were no screw-in chokes. But there was this one guy, who lived on the Rockmart Highway past the intersection of Wax Road, and he raised them big old white turkeys. Every Saturday he had a turkey shoot behind his house, and they used .22 rifles. Some of you old timers may remember, names don't stick with me anymore.
But it was tailor made for my dad or Uncle Ottis Greene. They were great shots with a small bore rifle, and usually would win a live bird, and it also got dressed in the backyard and into the pot it went. I still don't remember when they started cooking them in the oven.
And allow me to run a rabbit here, but my Aunt Jesse would beat the men with the .22 if they didn't get a good hit. She could shoot, and won her share of turkeys.
Ok, we got the turkey dressed and boiling. Now would come the dressing, made from cornbread that had been cooked a day or two earlier just for this purpose. And if there were any left-over biscuits, they would be added. Dressing was on the side, not stuffed in the bird. There were no oysters mixed in with it at our house. Cranberry sauce and giblet gravy was standard accomplices.
Potato salad, fried corn, some kind of dish with sweet potatoes, green beans (don't remember any casseroles) were on the table in heaps. Sometimes there were crowder or field peas. You see most vegetables were garden grown, and had been canned earlier in the year.
My aunt Jessie made this congealed salad every year. Everyone made fun of it, but it got dissolved quickly. Pecan and sweet potato pies were a hit, and so was a homemade, hand-ground coconut cake, which is still my favorite.
I had just finished submarine school and was home for a few days, on the way to Key West and the USS Chopper (SS-342). President Kennedy was shot and killed while I was at home. I received a telegram which basically cancelled my leave, and said if I was there now, I'd be late. Two days later I was.
We had orders to Guantanamo, but they were changed for us to leave January, 1964. Believe me, Cuba was a hot place to be at that time.
I've mentioned that over Christmas on board ship, I had the pleasure of eating my first turkey roll. I just stared at it for a long time before trying it, but it wasn't bad, it wasn't home, but it wasn't bad.
It would be several years before I got back to the comfort of my grandmother's kitchen. Things hadn't changed much except turkeys came from the grocery store, and there were canned vegetables mixed into the fresh ones. All our hunting now was for deer, rather than rabbits and squirrels.
The next year I got married, and holiday dinners at my wife's family was almost a carbon copy of what I was used to. Still, there were some members of her family that excelled in certain dishes. Her sister Dot could make some of the best dressing you ever ate, and so could sister Marie. Sister-in-law Rachel could cook anything, and it was delicious. Of course, her mother Myrtle Highfield was like my grandmother. They had been raised knowing how to set a table when there was nothing to eat in the house. And if you gave them something to work with, well the memories are still delicious.
Marie made, and still does make, one of my favorite desserts, chess pies. Mary Francis (Honey) and her Coca-Cola or Vanilla Wafer cake were works of art.
We tried to raise Bekki and Byron on tradition, and I think we did a pretty good job. Martha and I were talking today about how many were sitting at the table in glory, and had done gone on. It's a lot.
Those that have already gone from my family are Mother and Dad, aunt's Sammie and Jessie, uncle's Ottis, Alvin, Lamar and cousin Kenny Greene. All of my dad's sisters and brother have departed. Martha's mother and father, sisters Dot and Frances, and brother Larry are sitting first call at the big table with our Lord. Nephew Gary and Kent Highfield are there, too, along with brother-in-laws Charles Evans, Gene Kelley and Cliff Otting.
Thanksgiving has changed over the years, and the change is continuing. Someday we will be having that feast with our Savior. I'm in no hurry, but don't dread the coming of the day either. Look who I got waiting. But I sure hope you had a great Thanksgiving. Now you can prepare for Christmas, but don't sell Thanksgiving short.
Mike Ragland is a Cave Spring city councilman and a retired Rome police major. His most recent book is "Living with Lucy." Readers may contact him at mrag@bellsouth.net or mikeragland.com.