GUEST COLUMN: Lost in Alabama: Part 2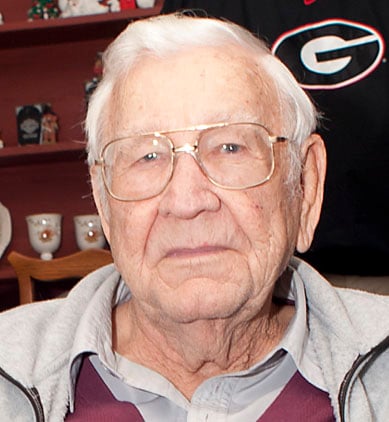 In part one of "Lost in Alabama," young Lonie and some friends decided to find the ghost dog they had heard about in Centre, Alabama, but on their way, they found themselves lost and stopped to ask directions:
The man wore overalls and had a belt around his waist. A woman with a long dress was holding his arm. I rolled the window down and he poked his head though it into the car. His breath smelled of whiskey. "What you want boy?" he asked. I explained that we were lost and were trying to get back to Centre. He pointed to the road that we had been on. "Get on it and go to where the church is. There are cross roads there, head left and it will carry you back to Centre." He removed his head back out of the window, taking his foul breath with him.
I had noticed that the men wore overalls with a belt around them. Overalls have straps that hold them up. Why wear a belt?
"Melinda," I asked, "Why were the men wearing belts with their overalls?" She laughed and said, "It gives them something to hold their guns in place." "What gun?" I asked. I learned something that night. If a man wore overalls and a belt, leave him alone for he has a gun under the bib with the belt being used like a holster.
We came to the cross roads and the little church. Melinda began to shout, "There it is!" pointing to the church. Duke pulled into the lot and we all got out. It felt good to get out of the car and stretch.
Melinda came around and pointed toward the grave yard. "They say on a dark night you can hear Bum's mongrel dog howling over his grave." She began to walk toward the cemetery. We followed her, she stopped and pointed toward a spot in the graveyard. A tall statue of an angel stood in the darkness. We moved into the edge of the graveyard and stopped. I could see all over the graveyard and I had no intentions of going any further.
I turned to go back to the car when I heard a sound that chilled my bones and made the hair stand up on my arms. The back of my neck went cold, and goose bumps ran up and down my spine. It was one of the most pitiful sounds that I have ever heard. I turned back, looking at the graveyard. I saw something that looked like a light moving in among the graves. I could hear the people running back to the car.
I looked to see who was with me. Duke and Melinda was on my right and Francis was on my left. Carlton was with the others in the car. Melinda whispered, "That sound is Bum's mongrel dog. I have been here before, keep your eyes where you see the light." I watched as the light moved around the graves. It looked like cemetery lights with the exception that it had some dark in it. Cemetery lights are white lights. This did not move like cemetery lights. We stood still not moving an eyelid. The lights were amazing to watch.
I have no idea how long we stood there watching the lights. I said, "Duke, you ready to see what those lights are?"
"I am as ready as I will ever be," he said.
 The moon had come out from behind a cloud and cast an eerie shadow over the graves. I took a step and felt a hand on my arm. I knew it was Francis, for she wasn't about to let us go down there without her. Melinda was still with us. I walked between graves until I got to where we had seen the lights. Nothing was there that we could see. We stood still listening for any sound. Then we heard a growling like a dog. When you are in the boon docks, especially back then, you hear a growl you ease back from it.
The growling grew louder and we began to back up. The growling stopped, then began to sound like someone crying. Now you know when it's time to move back away from a place. We began a slow retreat. The growling then came from behind us. Whatever it was had got between us and the car. Someone had piled some small rocks beside a grave. I reached down and picked up two good throwing rocks. I could see nothing around us. Then the howl came from below us, where we had seen the light. We often wondered if it was our imagination. The four of us thought we heard someone talking to a dog. I want you to know that was enough for us. We got back to the car and back to Rome in a hurry.
The next day in the park Duke, Melinda, Francis and I had a long talk. Melinda said it was that Bum's dog was lost from him in the graveyard and he would howl. Bum would come and talk to him and he would quiet down. I don't know what it was, but the sound of animal growling was heard. When we were backing off from the graveyard we all agreed that we heard a sound like someone talking to his dog.
Lonie Adcock of Rome is a retired Rome Police Department lieutenant. His latest book is "Fact or Fiction."