GUEST COLUMN: Looking back on life after 9/11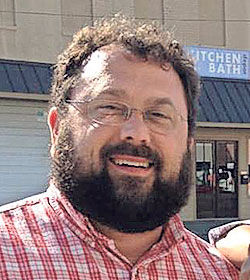 Sixteen years ago, on Sept. 11, I was in Savannah. I was getting ready in a hotel room, about to drive back to Rome when I turned on the television and realized our world would never be the same. Since 2001, every year on Sept. 11, I have paused to reflect on the horrible tragedies we experienced that day. I pray for families who were directly affected and think about the holes in their hearts that will never be filled.
However, the way I have reflected on this tragic day has changed over the past few years. Sixteen years is a long time. Roughly a fifth of one's life. How much happens in 16 years?
What has happened since Sept. 11, 2001?
On 9/11, I was 27 years old. Single. In youth ministry. Two years into a new job. Living in a new town.
In the 16 years since 9/11, here are a few of my life experiences:
I married a beautiful woman.
I left youth ministry and began serving as a teaching minister.
I experienced the birth of my daughter.
I experienced the birth of my son.
I've delivered roughly 800 lessons.
On top of those experiences, I've made many new friends, lost a few dear loved ones, been blessed through my marriage and my children's development, been released from different types of spiritual bondage, and I have truly found spiritual freedom.
What about 16 years for the families of the victims of 9/11? I think about fathers who didn't get to walk their daughters down the aisle. I think about mothers who never read their children another bedtime story. The missed little league home runs, ballet recitals and vacations. The secret handshake of a father and a son that now has no one to receive it on the other end. Children have gone to college without a parent there to help them get settled in.
A wife will never receive another goodbye kiss as her husband leaves for work. A husband will not grow old with the love of his life. No front porch swinging, holding hands, watching grandchildren play tag in the yard.
May we look around our world and remember-not just on 9/11, but every day, that people are hurting.
May we remember that someone's son was killed on a battlefield, someone was bullied at school, someone is going through a divorce and someone lost their job today. But let's do more than remember-let's reach out. Offer a hug or a listening ear. Write a card. Send someone flowers. Let's counteract the evils of this world with love.
"A new command I give you: Love one another …" (John 13:34)
May we always remember 9/11. May we remember the victims and their families. And may we remember to love.
Joey Haynes is a follower of Jesus, married way out of his league, has two of the coolest children in the universe and is blessed to work with an amazing community of believers known as The Church at Rome.