GUEST COLUMN: Don't look back, appreciate the now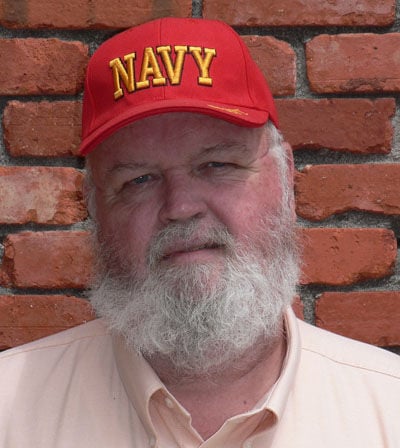 I feel sad when I hear folks saying they hate Christmas. What they're really saying is they hate the present expectations and culture that has been placed on the event. They are conforming to the world, and Romans 12-2 specifically tells us that we shouldn't. You can celebrate Christmas without any of the tinsel and lights. It can be done all alone, on a park bench, or a recliner. Presents are a commercial add-on, designed to load your credit cards up for a couple of years.
Yes, those family affairs can be festive and enjoyable, but I've went from a huge gathering as a youngster, to just a few family members now. And you know, I think I enjoy it as much now as ever, if not better. You see, I'm locked in on what it's all about.
Last night at praise band practice, a young man (maybe seven or eight) wanted to sing "Little Drummer Boy." We played softly while Miss Patti helped him with the words. He can sing. I hope they let him sing in one of the next two Sunday services. Point is, that blessed me big time and no box of handkerchiefs (and I need some) will replace it. Christmas is all around us, just look past the wrapping paper.
When I retired from Rome Police Department, I had enough sense to know that I had to find something to do, or just sit down and mold. I had written the department's grants for 15 years, so writing seemed to be a natural fit. It kept me busy, and still does. I'm way behind what I want to produce, but hopefully I'll get there.
We have a tendency to look back, and then tell ourselves that the present doesn't come up to the past. You can't do that, those days are gone, you'll just make yourself miserable.
As a baseball fan, I'm reminded of what one of the greatest pitchers of all time, the great Satchel Paige said. His advice was to "never look back — sumpin may be gaining," and he is correct.
I had a shipmate that never worried about anything. His favorite saying was "in a 100 years it won't matter at all," and of course he, too, was correct.
In a recent church service our pastor preached from 1 Peter 5:8. You know the one about the adversary walking around like a roaring lion. That's what you need to worry about. Not letting him get into your head and ruin your focus on what this season is all about.
Age is irrelevant, it's between you and a higher power. Not between you and Amazon's online shipping. Tell your family members and friends how much they mean to you, how much you love them, and if you can afford a small present, then by all means get them one. But don't let that be the highlight of the season. I'm looking forward to some good Christmas music, and watching more Hallmark shows.
But in keeping my record of historical content intact, the next paragraph or two is for those historical minded folks, and to my band leader Angela Evans, who has us playing this song for an upcoming service.
In the late 1600's, most worship music in Europe consisted of singing Old Testament Psalms. Isaac Watts loved the Bible, yet he thought these songs felt "unnatural" to sing. After one Sunday service, 15 year-old Isaac complained about the "atrocious" worship service. A deacon challenged him with "give us something better, young man." He went home and penned his first hymn, and the love of hymn-writing stuck with him all his life.
Later in life, and inspired by the last half of Psalm 98, Watts penned "Joy to the World." And it has become a favorite Christmas Carol, and a traditional song for the season.
The music is by an unknown composer, some scholars say it resembles Handel's greatest work, "Messiah."
The final point is to free your mind from secular trappings, focus on the Spiritual, and concentrate on what happened 2,000 years ago, not what's on sale.
Mike Ragland is a Cave Spring city councilman and a retired Rome police major. His most recent book is "Living with Lucy." Readers may contact him at mrag@bellsouth.net or mikeragland.com.