GUEST COLUMN: Christmas has always been magical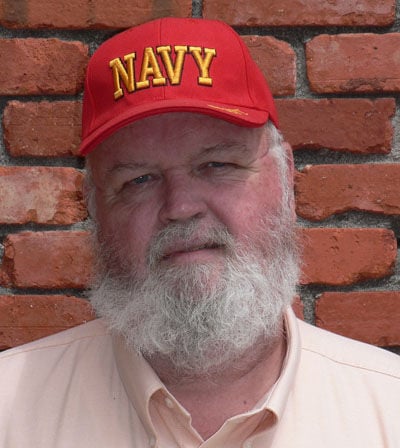 Even the first one was magical, even more than all the ones that follow. I think if I were out in the fields with a bunch of sheep, and all of a sudden the heavens were full of angels, I'd have been searching for the Charmin. Seeing one angel was mentioned several times throughout the scriptures, but a multitude of them at one time whizzing around and singing. That's magical.
I didn't get to witness that event, but every church in Floyd County will be telling the Christmas story during the next month, and more than a few will have plays and sing songs we've adopted for the occasion. Maybe not as pretty as a sky full of angels, but some are pretty close. The mega churches on television will have actual productions at their places. So get you a cup of dark roast, pull up a chair and enjoy.
It was magical in the mill village, too. And by the time you're reading this, the star will once again be hanging between the smokestacks. Lindale natives have always been partial to our star. Nothing signaled the beginning of Christmas more than that star did. We could walk out on the sidewalk from 313 Park St., where my grandmother lived, and see it shining in the heavens. I used to wonder if that was the star the wise men followed to the manger scene.
Speaking of manger scenes, there are two that stand out in my memory. One was erected in front of Jennings funeral home on North Broad, but the most famous of all, is the one with live church members from Trinity Methodist on Tsurner McCall Boulevard. Standing without moving for thirty or forty minutes is a tough order, especially when it's below freezing, or an icy wind is whipping down their robes, sometimes laced with sleet and snow. But the manger scene at Trinity is a tradition, I hope it always remains.
Other things get involved in our memory banks at this time of year, and start getting jumbled up as we get older. I walked in to a local grocery store last week, and saw the price of Christmas trees stacked up outside. It almost took my breath away. Yes, I've bought real Christmas trees. I remember when Fourth Avenue would be lined with tree vendors selling their trees and homemade wreaths, along with holly and mistletoe. That was another tradition for local Romans. I guess they upset some merchant downtown, or a sitting City Commissioner of the day, because I remember having to run them off after all those years. It was a sad day.
I think the best tree of my childhood was one that my dad and I would cut from the woods. We'd climb Cemetery Hill in Lindale searching for the perfect cedar tree. He always wanted one just the right size. After we found the tree it was a chore dragging it back down the mountain, but I looked forward to it just the same. Once we got home, Dad made a stand out of scrap lumber from the woodhouse and turned it over to my mother.
She immediately wrapped the stand in white paper, making her own skirt to cover up our carpenter work. She would spend an entire evening decorating the tree. She had several strings of bubblers that she always put on the tree. Those things were hypnotic to me, and I still like to see them on trees. My favorite part was getting to add the icicles, or tensile to the tree. She wouldn't allow me to throw them, but I always tried to sneak a few good throws in on her.
Finally it was ready for the crowning touch. She placed her star on top of the tree, telling me at the same time how the star of Bethlehem led the wise men to the baby Jesus, and then she covered the tree in angel hair, signifying the heavenly choir that woke the shepherds up, while tending their flocks. Those trees are the ones I wish to remember, although we had some mighty beautiful ones when my daughter was growing up.
I spent several Christmases in Key West during Navy days. I never quite got used to palm trees all decked out for Christmas, and short sleeve shirts. But I recognized the local tradition, and helped them celebrate as much as possible. It was a different world in some ways, and the same in others.
Back on the police department in the late 60s and early 70s, walking the Broad Street beat, spending the day blowing a whistle at double parkers and making them move along was boring as it could be. And yet, at times, a sound or smell would propel me back to a happier time or moment. I hope that's happened to you. I read where some folks a lot smarter than me mentioned triggering events that would shake something lose in our memory banks. Mine seemed to be all positive.
I would remember the two Christmases I worked at J.C. Penney's on Broad, they were — and still are — special to me. Being dragged to Broad Street by my mother on cold Saturday mornings and shopping in every store. Sitting for weeks, months and years in Belk's or Kessler's while she looked at patterns. Going to the Krystal for lunch, or if I was with Dad instead of her, we'd go to the 'past time' pool room and then to the Bumble Bee where Mrs. Phillips had the best chili dogs and burgers in captivity.
You know, there were some bad years too, but I chose not to remember them. I like to think of Christmas as a positive happening. The older I get, the less the commercial side means to me. I can enjoy the season with a viewing of "Miracle on 34th Street," or "It's a Wonderful Life." A good dinner and a little company always means a lot to us old folks, and I certainly like the Christmas story in Luke.
A lot of lifelong friends have crossed over to the next world, including close to half my graduating class at Pepperell. And I want to wish a very Merry Christmas to those I have left. To my shipmates from the USS Chopper (342) and all the police officers I served with over the years.
Lastly, I have this Facebook family now, and you, too, are very special to me. Please be safe, and remember the reason for the season.
If you want a Christmas blessing, visit an assisted living or nursing home this year. I'm expecting a call from one any day now. They call ever year, and I love going.
Mike Ragland is a Cave Spring city councilman and a retired Rome police major. His most recent book is "Living with Lucy." Readers may contact him at mrag@bellsouth.net or mikeragland.com.