GUEST COLUMN: Beckett, Braggs and the hanging crossroad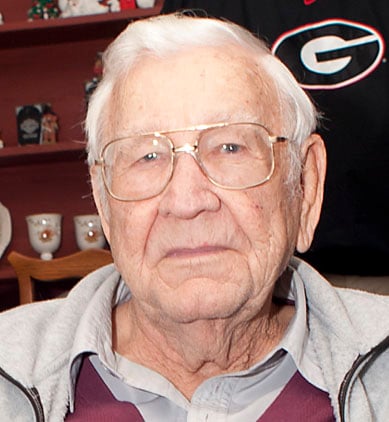 I tell stories that were told to us kids as we grew up. True or not, they were told to us and we never questioned them. I will tell this one and let you draw your own conclusion.
It is supposed to have happened back in the 1800s in a small community somewhere in the mountains of North Georgia. If you ever run across a place called Beckett Corner, then you will know you are where this story took place.
Beckett came into the community when he inherited a small farm from an uncle. The people gave him the nickname "Slim." Beckett was about 6-foot-6 and his legs were long and skinny. When you looked at him he seemed to be all legs.
At first glance, it looked as if his legs started under his armpits. It was a sight to see, him riding his old mule. His legs almost reached to the ground.
It was said of Beckett that he was a good person. If anyone needed help he would be the first person to lend you a hand. He was well liked in the community, but there was one who did not like him. He was the community bully. His name was Roscoe Braggs.
Roscoe was disliked by most. He was a hellraiser and on Saturday night he made all the bars in the nearby town. Once they were closed he would come back to the community and find someone to pick a fight with. He was always in trouble with the law.
On one occasion he had been out drinking and had a run-in with a sheriff's deputy. He jumped the deputy and knocked him down. The deputy shot him in the leg.
The community was rid of him for a while. But once he got well and served his time, he came back.
Beckett would get up before daylight and get in the fields, plowing. People marveled at this — he had to have a plow special built on account of his height. With his long legs and arms, an everyday plow for most would put him in a stooped-over position.
He would plow until the hot of the evening, then go home and sit in the shade and drink tea. He would go over to the city and get ice and put it in a place that he had built in the basement.
No one knew how he kept the ice from melting, but they knew that if you went by he would give you a cold glass of tea. His tea did not taste like the tea that most of them drank. He called it sassafras tea. No one knew what it was really made of, but a cold glass of it would cool you down.
At holiday gatherings Beckett would drive a wagon to the community center and sell his tea. Braggs had always sold lemonade at the holiday events. Beckett's tea was selling and Braggs was losing money.
Braggs set his lemonade stand up that morning for the Fourth of July celebration. There were all kinds of events to enter. The horseshoe throwing and the checker games were the most popular.
A stage had been set up and the music started. Braggs watched as Beckett's wagon came down the road.
His face grew red and he let out some words that sent people scattering.
They knew Braggs was going to start something with Beckett and a man was sent for the sheriff, but they all knew it would take a while for a deputy to get there. Unknowing of the pending trouble, Beckett unhooked his horse and put him in a place where he could get grass and water. He let down a couple of boards on the side of the wagon. He took a pick handle and drove up some stakes. The planks he let down made a table to serve his tea from.
He lay the pick handle on the tailgate of the wagon and began to sell his tea.
The story goes that Braggs watched the people drinking Becketts tea and began a slow burn. After several hours he could take it no longer. He went over to Beckett's wagon and yelled at him.
He called Beckett some bad names and dared him to come out of the wagon.
It was known that you could make fun of the way Beckett looked but no one questioned his courage. Beckett stepped down on the ground and Braggs rushed him, knocking him down on the tailgate. Braggs stepped back and yelled, "Now I am going to kill you." He made a dive for Beckett and was met by the pick handle that Beckett had put on the tailgate. Braggs hit the ground with a loud yell and a thump. He was out cold.
People gathered around Beckett; they had no intention of letting Braggs do any thing to him. Braggs lay out cold. Someone brought a cloth and a pail of water and began to wash his face. They got him to just as the deputy arrived. The deputy took Braggs to jail when told what had happened.
Everyone thought it was over. That is, everyone but Braggs. He walked around with a bandage on his head for several weeks. Then, one day Beckett sat up with a sick friend and it was getting late when someone came to relieve him. He said he would be back in the morning but he never came.
The people wondered what had happened. If Beckett told you he would do something then everyone knew he would.
They were standing on the front porch, talking, when a boy came running up and said he saw Mister Beckett hanging in a tree. When they arrived, they found he had been dead for several hours.
At his funeral every one mourned him; they knew that the community had lost a good man. Time dragged by and no one was found and charged with the hanging. Beckett had been hung in a corner of the crossroad. They named it Beckett Corner.
Braggs walked around quiet, not speaking to anyone. Some said they heard that someone was out to get him. No one paid attention to him.
Then one of the people in the community had to get up early and make a trip to town. When he approached Beckett Corner he saw a man ride off down the road.
He could see his legs hanging down, his feet touching the ground. He would have sworn that it was Beckett. He shook his head and approached the intersection at the crossroad. He pulled his horse to a stop. There, hanging from the same limb that Beckett was hung, was Braggs.
Word went out that Beckett had come back and got his revenge. Everyone had known that Braggs had hung Beckett, but who had really hung Braggs? Could the figure that some say they have seen at Beckett Corners really be Beckett?
If you ever find out where Beckett Corner is located, come back at night and look for the tall man on the small mule. Some said he was there every night when some kind of event was being put on.
Lonie Adcock of Rome is a retired Rome Police Department lieutenant. His latest book is "Fact or Fiction."