GUEST COLUMN: All Hallows' Eve revisited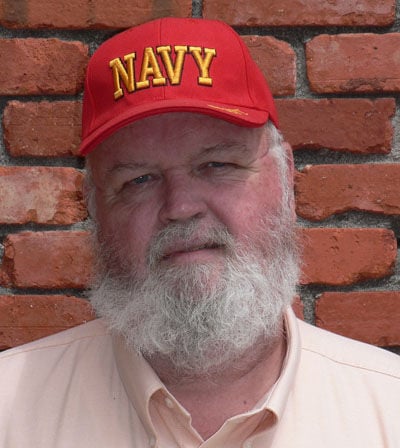 As I sat on the makeshift stage Halloween night and tried to keep up on bass guitar with Angela and Dylan, I was busy watching the line of folks pouring onto the property where a couple of local churches had set up an outreach program for probably the 25th year, or maybe a little longer.
Grace Fellowship and Bush Arbor Baptist churches had come together to provide food (hot-dogs) and drink (soft drinks, and hot chocolate) to the crowd that came through. By the end of the night they had dispensed over 1,000 hot dogs, tables full of candy along with a box full of Bible tracts.
The ladies working the line where the crowd passed by stayed continually busy for over three hours straight. Last year was the first year that Grace Fellowship's praise band, under the leadership of Angela Evans, set up to entertain the crowd with gospel music. So this year I knew what to expect. There would be no sets, or breaks. Once we started we wouldn't stop till the crowd left. I love playing bass guitar, but it can make your fingers a little sore after that long, at least it does me.
Being an amateur historian, I began putting everything I could toward trying to figure out where this celebration started and why we did it. I know, we've got folks out there that believe all kinds of theories of how it started, and I still don't know which is fact and which is fiction. Here's some of what I found.
I don't think there is too much argument that it started in the British isles. All the Celtic and Gaelic cultures had some kind of observance on this day. You see, November the 1st was recognized as the first day of winter in most of these lands, and the end of summer was on Oct. 31.
Many folks accept the fact that a lot of Halloween rituals were based on Pagan culture that were later influenced heavily by Christianity, same as Christmas. All Hallows' Day on Nov. 1, and all Souls' Day on Nov. 2, thus giving the holiday on Oct. 31 the full name of All Hallows' Eve (meaning the day before All Hallows' Day). Since the early church there were major feasts (Christmas, Easter, and Pentecost) that had vigils beginning the day before, as did the feast of All Hallows.' These three days were collectively called Allhallowtide, and were a time for honoring the Saints and martyrs of the church, as well as praying for the recently departed that may not have reached heaven yet (don't shoot the messenger. Lots of folks believe in a little resting place along the way).
Customs and rituals changed over the years. In the early 1600's "souling" was popular. The custom of sharing and receiving "soul bread" for all christened souls, appears to be the origin of trick or treating. Most loaves or cakes of soul bread was marked with a cross indicating they were baked as alms. It was a popular custom, even Shakespeare mentions souling in his comedy "The two Gentlemen of Verona."
Christian minister Prince Sorie Contah wrote: "It was traditionally believed that the souls of the departed wandered the earth until all Saints Day, and all Hallows' Eve provided one last chance for the dead to gain vengeance on their enemies before moving to the next world. In order to avoid being recognized by any soul that might be seeking such vengeance, people would don masks or costumes to disguise their identities.
To learn more fascinating facts relating to the history of fall's fun festival holiday, check Mike Ragland's column next week. Ragland is a Cave Spring city councilman and a retired Rome police major. His most recent book is "Living with Lucy." Readers may contact him at mrag@bellsouth.net or mikeragland.com.