As we tearfully left Idaho and most of our family, we headed towards our next destination: home. We had been gone for 78 days total, averaged $9.58 per night and drove a total of 2,324 miles. Even though the summer was filled with family reunions and special times, I realized how glad I was to be home!
We headed south from Idaho and their plethora of RV dealerships to the west entrance of Yellowstone, the most beautiful of the four entrances. What struck us as so odd was the big number of bicyclists we encountered. This had been our fourth trip through the park and we had only occasionally observed bicyclists, and for good reason. The steep inclines, narrow two-lane roads, wildlife and heat would scare any sane person away. But in fact we saw many bicyclists, especially in Grand Teton National Park, our next stop. We observed a mother and father with multiple children on the back in route to the center of Yellowstone going uphill! Although we saw many bicycle enthusiasts, there was one in particular worth mentioning.
His name is David Silas, but he goes by Silas (see photo). As a young high school graduate that felt that education could be just as valuable on the road as it could be in a college classroom, he decided to bike across America to raise awareness for the need to use this more outdoorsy type of transportation. He had already mastered a small unicycle but wanted to challenge himself further on this trip so he decided on a unique unicycle, as pictured.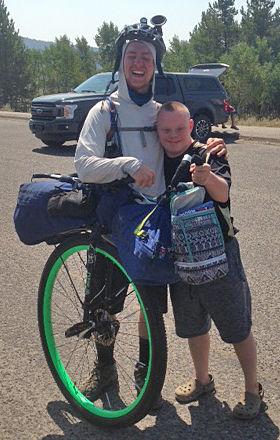 He started off from his hometown in Washington, his final destination being Savannah. With no real sponsorships, he gladly accepted free gifts of food and donations. Silas is an idealistic young man trying to spread the word that biking can cure what ails America. I applauded his enduring spirit but didn't have the heart to tell him that bicycling definitely wouldn't help. For those of you far braver than I, the National Parks do honor and encourage bicycle travel each year by providing information to enthusiasts on BikeYourParkDay.org.
I observed many billboards, restaurant and road signs that made me giggle, so I jotted some of them down. A bar in South Dakota was called "The Mangy Moose" — how could anyone get close enough to see if a moose had mange? Do moose actually get mange? A billboard in Missouri advertising their winery, "The Purple Toad," I guess they got the color right but how are toads related to grapes? Then in Illinois, I saw a sign admonishing drivers that if you "Hit a Worker — $10,000 fine and Lose Your License." The problem of hitting road workers must be on the rise? My favorite billboard as we drove through Nebraska flashed, "Throw Kindness Like Confetti #BeKind." Of course, when we reached Kentucky, I saw a billboard touting, "There are road trips and then there are pilgrimages," advertising an adventure in the world of spirits, (they do provide a very educational tour) at Jack Daniel's Distillery.
As the miles stretched out long and straight I was often given to wandering thoughts. It was from these musings that I started to add to my bucket list. As I witnessed more beauty than I deserved to see, I came up with more and more items that I wanted to add. My first order of the bucket will be catching my own dinner — fishing, especially fly fishing. It looks so graceful and peaceful so that is where I will start first. Another is snowmobiling in the Northwest, apparently very popular there, and seeing the Rockies in the fall.
The miles took a toll on our disabled son as they stretched on and on. Since becoming a teenager, he can no longer tolerate long periods of time with mom and dad and that backseat. Road trips will now have to come to a grinding halt. For our sanity, we had to make this sad decision, so coming home was bittersweet.
In Tennessee, I knew we were close to home when I saw a Cracker Barrel billboard telling me that they serve "Breakfast Y'all Day." What a sweet sight. As we drove onto our street, I breathed a sigh of relief and gratitude that the Lord allowed us to be part of this amazing journey, returning home in one piece to our little town of Rome, Georgia.