Rome woman scores big on Jimmy Kimmel Live's Belly Flop Contest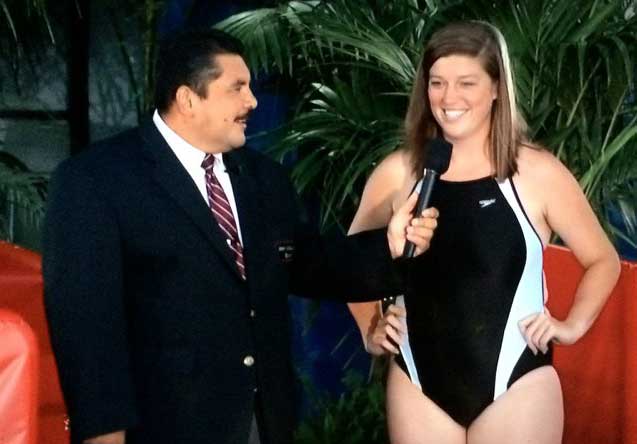 One minute Brittni Dulaney and her family were walking down the Hollywood Walk of Fame and the very next she found herself in a bathing suit on live television in the eighth annual Jimmy Kimmel Pedestrian Belly Flop Contest.
Dulaney, the women's lacrosse coach at Shorter University, never expected to be on television Monday.
"I'm on a family vacation with my parents and two sisters in Los Angeles. We just went downtown walking around the Hollywood Walk of Fame and a guy came up to us and asked if we were interested in being in a belly flop contest on Jimmy Kimmel Live," Dulaney said in a phone interview. "Once we realized it was real, we were like 'we would all love to do it' and five minutes later we were in line to be in the contest."
After signing some waivers, people from the show began interviewing prospective floppers, and they seemed to like the Dulaneys' story.
"They interviewed each of us. At first I thought they were going to do something with three Georgia girls, but they couldn't do that. They asked if one of us wanted to do it (the contest) and my sisters kind of volunteered me, probably because I'm the oldest."
After being chosen, Dulaney said everything went really fast.
"We headed into the set and got to go backstage and see all the cameras and TVs. A guy off to the side said 3-2-1 and opened the doors, and there was Jimmy Kimmel on stage," Dulaney said. "Then we walked right past Jimmy Kimmel. My family was in there too, and they got to see the green room and see the studio."
Dulaney and the other contestants were then spirited away to tents to get changed into bathing suits and to get ready to belly flop.
"One by one, we would walk up to the stage. It's kind of a platform in front of the pool. They had about a four-foot pool, and Greg Louganis, Cheryl Burke and John Henson were the celebrity judges," she said.
On the YouTube video posted by the show, Dulaney shows up around the 7:45 mark.
"Jimmy asked me my name, and I said I was from Rome Georgia. He than asked me if I had done a belly flop," she said. "I've never done it intentionally, but when I do, I think it's pretty good."
Dulaney's leap carried her more than halfway across the pool, resulting in a pretty good splash.
The judges were impressed with the effort.
Henson, a co-host on the show "Wipeout," said "I think pound for pound that might have been the best performance." Henson gave her a nine out of 10.
Burke, a dancer on the show "Dancing With The Stars," said "She watered down my vodka soda, so I have to give her a nine."
Louganis, who won several gold medals while diving for the United States, said "She landed pretty flat, so that scored some points with me." The Olympian also gave her a nine.
"It happened so quickly. I jumped and landed," Dulaney said. "The judges were all gracious to me. I got a score of 27."
While Dulaney appeared calm and composed on the show, she said she was a bit nervous during the competition.
"I was extremely nervous. It's a live show and anything can happen," Dulaney said. "Honestly, I wasn't really sure how to do a belly flop well. The lady kept saying you've got to try to win."
Dulaney's score of 27 was close but it fell short of a 29 posted by one of the other competitors.
"Afterward, my family all got to meet the celebrity judges and my mom was very excited to meet Cheryl Burke, because she loves watching "Dancing With The Stars,"' Dulaney said. "We were able to get a picture with John Henson, and I was able to shake all their hands and tell Cheryl Burke how awesome she is."
Although she didn't triumph, Dulaney didn't leave empty-handed.
"They gave me a T-shirt and a hat and I got to keep my bathing suit," she said. "They also gave us a gift card for the Ghirardelli store. After that, we were all like 'this trip can't get any better.'"
Jim Alred is New Media Director for News Publishing Company.​