Report: Rome man carries marijuana into jail after fleeing wreck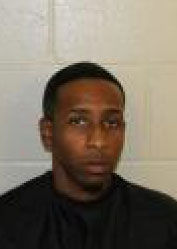 A Rome man faces a felony drug charge after he was found with marijuana in his pants while being booked into the Floyd County Jail.
According to jail records:
Jhericus Rhachard Moran, 26, of 525 W. 13th St., was being held Tuesday pending a $5,200 bond.
Moran was arrested near the intersection of Turner McCall Boulevard and North Fifth Avenue just before 4 p.m. Monday after leaving the scene of a wreck.
Police found a small bag of marijuana inside his vehicle, but he also had a quantity of the drug in his pants.
Moran was charged with the felonies carrying drugs across the guard line of the jail and probation violation, along with misdemeanor possession of marijuana, hit and run duty of a driver to stop at the scene of an accident, making a false report of a crime and driving without a license.