Police: Man drove drunk to victim's house, attacked him with baseball bat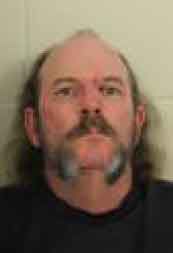 A Floyd County man accused of beating another man with a baseball bat was in jail without bond Sunday night on several felony charges.
According to Floyd County Jail records:
Jerry Kevin Evans, 52, of 242 W. Big Indian Trail, is charged with aggravated assault, aggravated battery against a law enforcement officer, fleeing police for a felony offense and two counts of terroristic threats.
Evans also is facing misdemeanor charges of DUI, criminal trespass, bat-tery and passing in a no-passing zone.
He reportedly went to the man's home on Calhoun Road Saturday night with a baseball bat and started hitting the 49-year-old victim as soon as he opened the door. Evans grabbed the other man by the throat and dragged him about 20 feet and also threatened to kill the man's wife.
He drove off to his home, refusing police orders to stop. When arrested, he admitted he had been drinking. He also threatened the victim again while he was being booked into the jail.