Family safe as vehicle burns on Calhoun Avenue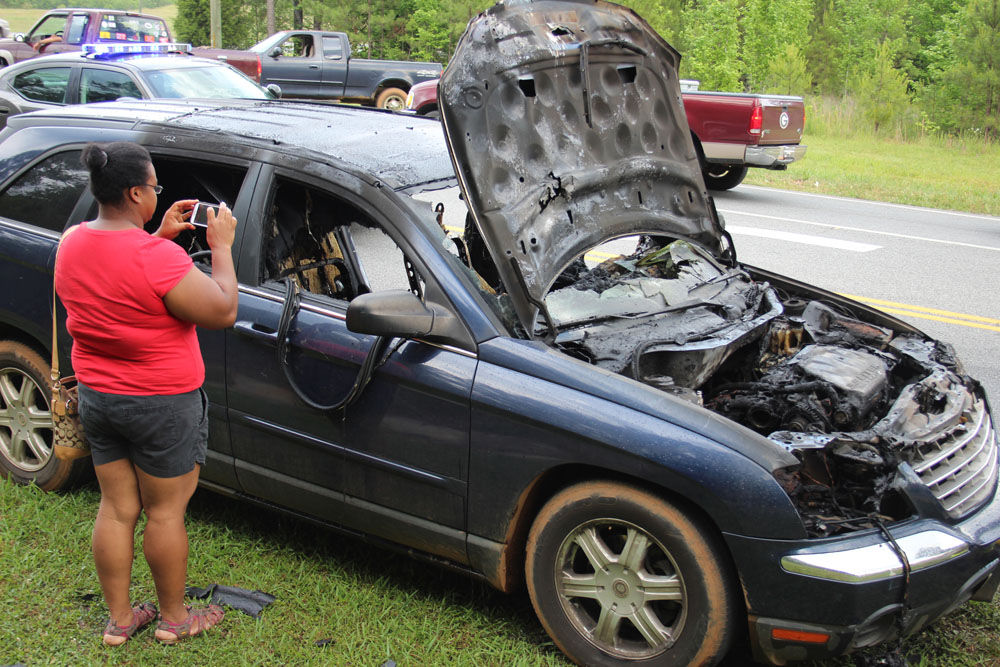 A mother and her daughter were able to get out of a burning Chrysler Pacifica without injury on Thursday night near the intersection of Ga. 1 Loop and Calhoun Avenue.
Sabrina Williams had just called her mother, Barbara Williams, around 6 p.m. about her vehicle having difficulties accelerating when she pulled up to the intersection, she said. The next call Sabrina Williams made to her mother was to tell her the vehicle was on fire.
The vehicle started smoking as it went through the intersection, and Sabrina Williams said she was able to switch to manual transmission and pull over to the side of Calhoun Avenue, where she told her 9-year-old daughter Azirra Williams to get out of the vehicle.
Rome-Floyd County firefighters were able to douse the blaze shortly after receiving the 911 dispatch call.
Floyd County police officer Ginger Shelly stopped short of calling the vehicle a total loss, but said, "If they salvage that, I'll be surprised."
Sabrina Williams had just finished shopping for her son's birthday party and had the car loaded up with food and party supplies. "The hamburgers are definitely well done," she said.
Sabrina Williams has had a slew of difficulties with the Pacifica, which she is still paying the loan on, since she bought it from Sherold Salmon Auto Superstore in August 2016, she said. The vehicle recently had $1,700 in repairs done, including the replacement of the engine cradle, she continued.
In January, Sabrina Williams filed a lawsuit concerning the Pacifica against the used car dealer, and the parties are set to appear in court on June 6, she said. Barbara Williams said the business has told them the vehicle is safe.