Burkhalter announces he won't run in 2020, Caldwell announces intent to run for sheriff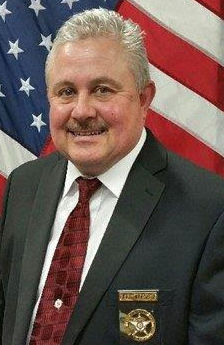 Sheriff Tim Burkhalter said he isn't running for sheriff again in 2020 on Wednesday, and current Chief of Operations Tom Caldwell announced his candidacy.
"I am pleased to announce my candidacy for sheriff to succeed my long-time friend and one of the best to ever hold the position," Caldwell said.
Sheriff Tim Burkhalter's term expires in 2020 at the end of his fourth term in that post. Burkhalter said while it's still several years down the road, the prospect of doing something a little different sounds good after thirty plus years at the FCSO.
Caldwell said in a press release his intent is to continue practices that have brought about success in the sheriff's office.
 "Transparency in our operations, a more modern and professional sheriff's office with a strong commitment to community involvement have made the foundation for our successes," Caldwell said. "My experience over these 13 years as chief of operations gives me the unique insight to understand the critical operations and constitutional duties of this office. I believe this will ensure a smooth transition so that we can continue to improve as an agency and dispense a better delivery of services to the community."
Caldwell is going to run for the office as a Republican.
Among his qualifications, he has been at the Floyd County Sheriff's Office for over 20 years with 13 as the chief of operations. He is a native Roman, a graduate of Shorter University and holds a Master of Public Administration degree from Columbus State University Georgia Law Enforcement Command College. In 2009, he was the first member of the sheriff's office to graduate from The FBI National Academy in Quantico, Virginia.
The campaign can be contacted via email at sherifftomin20@gmail.com or via campaign Facebook page, Instagram or Twitter.