Armuchee woman charged with having dangerous drugs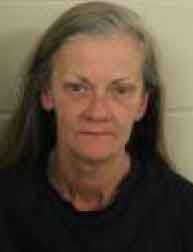 An Armuchee woman seen digging through a clothing donation box ended up jailed on felony drug charges.
According to Floyd County Jail records:
Rhonda Gail Hardin, 52, of 771 Floyd Springs Road in Armuchee, was arrested Saturday outside the Hi Tech convenience store, 1501 Martha Berry Blvd.
Police approached to question her about going through the donation box and smelled marijuana and alcohol on her person. She had a small amount of marijuana and some pills — four Gabapentin and three Kadian — in her shirt pocket.
Hardin is charged with felony possession of a Schedule II drug and the misdemeanors possession of less than an ounce of marijuana and possession of dangerous drugs.