Work session to focus on priorities of new year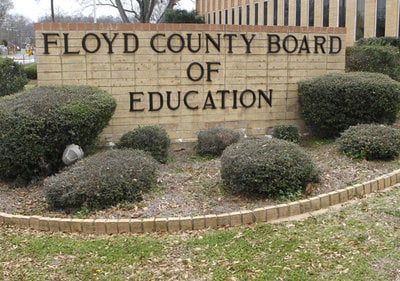 The Floyd County Board of Education will select a board chairman and vice chairman during its meeting Tuesday that will be followed by a lengthy work session to deal with a number of topics for the new year.
The board will meet for its regular monthly meeting at 8 a.m. in the boardroom at the central office, 600 Riverside Parkway.
Chip Hood, representing Armuchee, is currently the board chairman, and Tony Daniel, representing Pepperell, is the current vice chairman. The next chairman and vice chairman will take on these roles for all of 2018.
During its work session, the board will be presented with a master plan for carrying out education local option sales tax projects for both ELOST 4 and ELOST 5.
Collections for ELOST 4 will end March 31, 2019, and ELOST 5 collections will begin April 1, 2019. Voters approved an ELOST extension in November's election.
The work session will lay the groundwork for the decisions board members need to make to get these projects going. One of the first things to take care of is determining which of ELOST 4 projects need to be completed and which of them can be carried over to ELOST 5.
Discussions on ELOST 4 will mainly be concerned with moving forward on completing the equipping of elementary school gyms with air conditioners.
Talks on ELOST 5 projects will focus on the modernization of Armuchee High — estimated to cost around $25 million —  and the construction of a new Pepperell Middle — to run the system approximately $20 million.
Besides focusing on ELOST projects, the board will also discuss other projects, such as a new track and HVAC system at Pepperell High.
Updates also will be given on the state of school properties, like the old Johnson School and Midway School spots. Next fiscal year's budget also will be on board members' plates, as will be the development of the School District Strategic Plan for 2018 to 2023.