Historic aircraft staying put due to permit confusion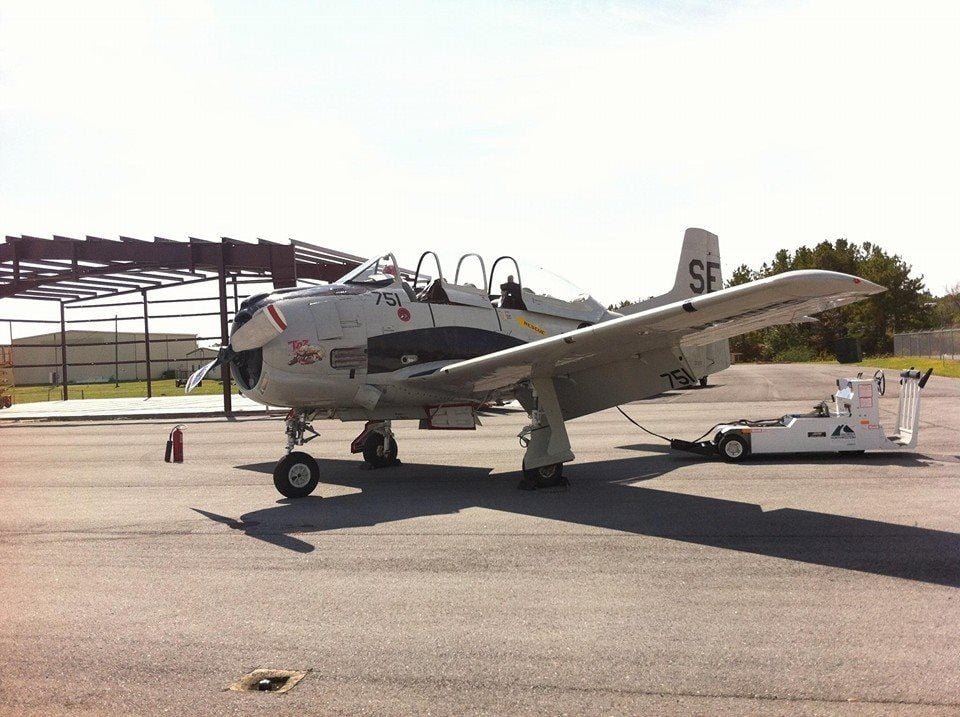 A last-minute wrench was thrown into the plans to tow a historic warplane from Tennessee to Rome overnight Wednesday, meaning it won't be able to make it to this weekend's Wings Over North Georgia air show.
Mark McAllister with the Hixson Flight Museum said this afternoon that the Georgia Department of Transportation has informed them that they need a permit in order to pull the 3-ton, 28-foot-wide aircraft down U.S. 27.
"We had been in contact with all of the parties involved since day one to let them know what we were planning," McAllister said. "We were told we were within the limits of not having to get any permit."
McAllister said they need a police escort to tow the plane on public roads, and they can't get one without the permit.
He said they have been told it takes three to five days to get a permit, ending their hopes of bringing the plane in for the air show.
One, however, is hitting the road.
Staff and volunteers with the Hixson Flight Museum plan to tow a three-ton T-28 Trojan aircraft from Hixson, Tennessee, to Richard B. Russell Regional Airport overnight tonight to have it on static display at the event.
The approximately 80-mile trek is set to begin around 10 p.m., mostly on U.S. 27, according to Mark McAllister with the museum.
The plane will be towed on its own tires without the use of a trailer, leading to the possibility of having to stop and change the tires at certain points.
They expect the normally hour and a half-long trip to take between eight and nine hours, arriving early Thursday morning after traveling at an average of 10 mph.
"It will be a long, arduous process, but we're looking forward to the challenge," McAllister said.
The trip could also be a world record.
Hixson Flight Museum President Peter O'Hare said they have all of the documentation set up to submit the journey to Guinness World Records for towing an aircraft the furthest on public streets.
"We've done a number of these tows to local events, so now it's time to do the big deal," O'Hare said.
The plane is a 1950s-era warplane and aviation trainer used by the U.S. Armed Forces in campaigns in Southeast Asia.
McAllister said the plane is about 28 feet wide with its wings folded up and it is being towed because it's unable to fly. It has been rebuilt from parts recovered from a collector in Illinois in 2010.
O'Hare said this would be the first time that the museum will have all three of its T-28s on display at remote events. The other two can fly and are already at Richard B. Russell Regional Airport.
"These are massive planes. They're not small aircraft," O'Hare said. "This is a Herculean event that these guys are attempting."
McAllister said Chief Deputy Tom Caldwell of the Floyd County Sheriff's Office has been instrumental in helping them get a deputy escort on their way. Volunteer drivers also will be in "chase cars" along the route.
The Wings Over North Georgia air show is Saturday and Sunday with gates opening at 10 a.m. each day.
Advance general admission is $15 for adults and $10 for children ages 6 to 17. Tickets at the gate are $5 more. Packages are also available.