Tuesday class will turn weather watchers into storm spotters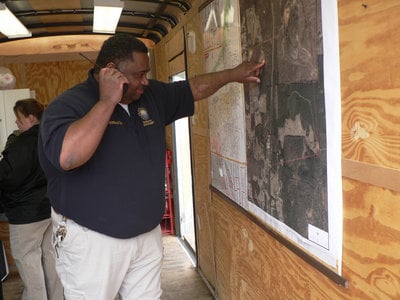 A free storm spotter class will be taught Tuesday at 6 p.m. at the Rome-Floyd Fire Administration and Emergency Operations Center at 409 E. 12th St.
The annual class is presented by the National Weather Service and the Floyd County EMA. Those interested can register in advance or at the class.
Floyd EMA Deputy Director Tim Herrington said the evening will cover a wide variety of information on both the development of severe weather and how to report information to the NWS.
"Folks that attend the classes can go on the National Weather Service site and sign up to be an official storm spotter," Herrington said. "They will then be able to give them information about weather issues in our community."
Herrington said the class should be done by 9 p.m., and all participants will receive a certificate of completion at the end.
Scheduled to be discussed during the evening are the basics of thunderstorm development, the structure of a storm and severe weather safety.
People who go through the training can become vital parts of the Floyd County EMA's response to severe weather events, Herrington said.
"The information we get from our spotters and other public safety employees is put together to get a clearer picture of what is happening in our area," he said.
"A lot of our amateur radio folks are storm spotters as well, and very important to us as they pass information along from different areas of the county."
Keith Stellman, a NWS meteorologist-in-charge, is set to instruct this year's class.
"It should be very educational," Herrington said. "He is going to go a little more in depth for some of the people who have gone through it before."
He said some residents attend the class each year as a refresher course. Last year's class had about 75 people.
"We are working on possibly offering an advanced class for some of them that have already been through the training," Herrington said. "That will make them able to provide more accurate and timely reports."
For more information and to register for the class, contact the Floyd County Emergency EMA at 706-236-5002, or email Herrington at herringtont@floydcountyga.org.