Three Former Rome Students to perform during parade, Rose Bowl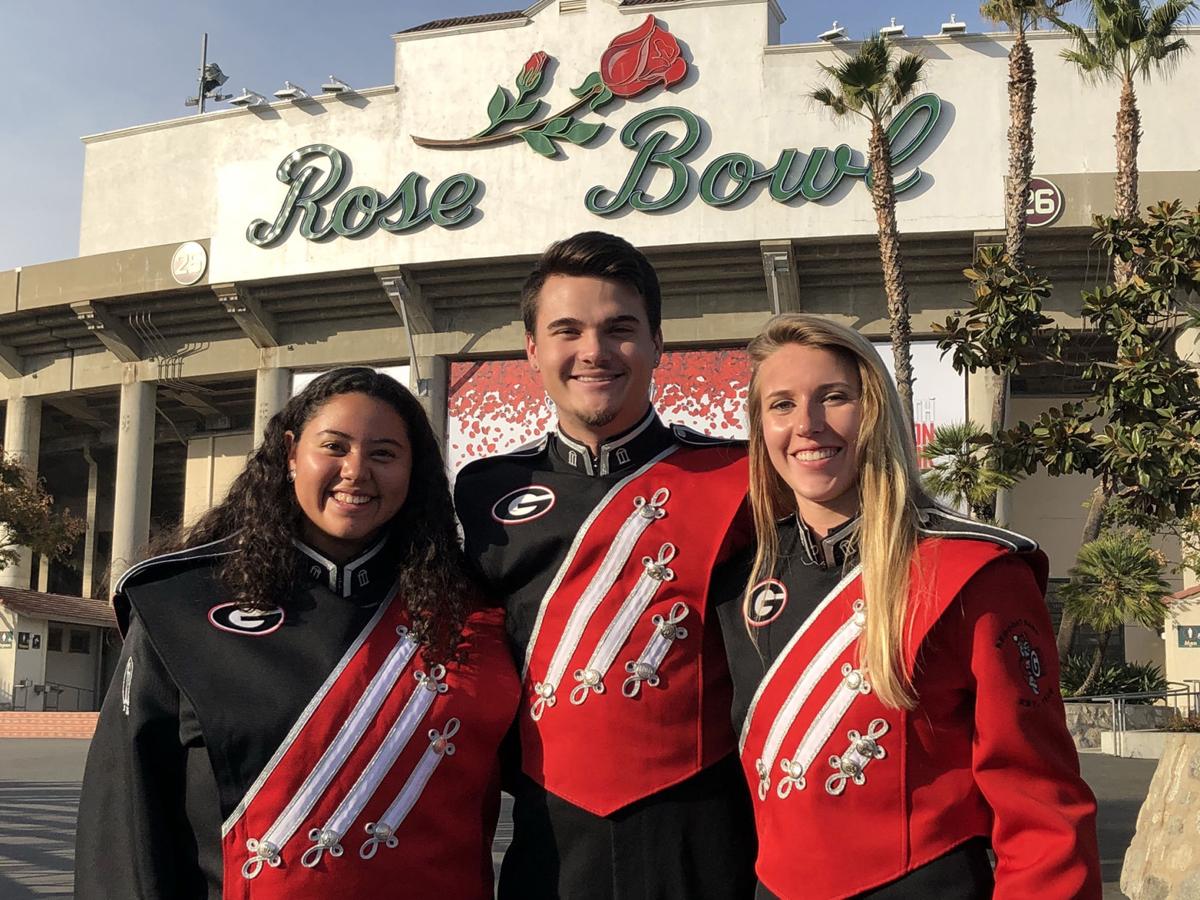 When the University of Georgia Redcoat Marching Band performs in the Rose Parade and later the halftime show of the Rose Bowl today, three former Rome High students will get the experience of a lifetime from an opportunity that hasn't rolled around in 75 years.
Trumpet players Elise Tallent, Stephania Luna and Alan Hester are all graduates of Rome High and former members of the Sound of the Seven Hills Marching Band.
They headed out from Hartsfield–Jackson Atlanta International Airport with fellow Redcoat Marching Band members, around 450, Saturday morning on a Boeing 747, en route to Pasadena, California.
The last time the Georgia Bulldogs played in the Rose Bowl was in 1943, when the team defeated the University of California, Los Angeles, 9-0. And the significance of the team's return and the chance to march in the 5.5-mile parade route — something they have had to condition for — the morning of the New Year's Day game is not lost on the three of them.
"I wouldn't have imagined that we would be going to the Rose Bowl," Tallent said. "It's amazing to think were actually going to experience that."
"It's way more incredible than I could imagine," said Luna, a freshman, of her first year in the band.
Coming off winter break, band members returned to Athens for a rehearsal Friday. Their last performance was during the SEC championship game in Atlanta at Mercedes-Benz Stadium.
On Sunday, the band played at a pep rally for their team at Disneyland. Tallent said their New Year's Eve celebration had to come early, on east coast time, since the band has to be up and on a bus early today as the call time of the parade is 5 a.m.
After their performance in the parade is over, the band will head to the stadium where Tallent said they will hopefully be watching the Bulldogs win. During halftime, the band will play its Allman Brothers show, in a tribute to Gregg Allman, who died earlier this year.
"How much better does it get?" Hester asked of getting to spend New Year's in California, which he is visiting for the first time, getting to play in a massive event and cheer on his school's football team.
Both Tallent, a three-year Redcoat member and lifetime Georgia fan, and Luna said their senior nights at Barron Stadium were melancholy events, as they thought it'd be the end of their marching band careers. Luna said she ended the halftime show in tears.
Knowing this, Tallent said she didn't want to stop marching, so in spring 2015 she tried out for the UGA marching band.
"It was checking off the ultimate bucket list (item)," said Tallent, who by that fall was playing at games and marching on the field.
Luna, who was looking to find a musical outlet at UGA, said Tallent encouraged her to try out for the Redcoat band as well. She still recalls with excitement the moment she received the email informing her of her acceptance into the band and the opportunity to continue her passion through music around those doing the same.
Hester, a music major, is the son of a retired band director at Rome Middle and music has always been a huge part of his life. He got into Redcoats at his friends' encouragement.
"I couldn't pass on this once-in-a-lifetime experience," he said. "It's the most fun I've ever had in my life."
On the morning of Dec. 3, the day after Georgia won the SEC championship, Luna said she woke up to a number of texts telling her to watch ESPN as the four teams who would play in the college football playoff were announced. If Georgia received a No. 3 ranking, it meant the Redcoats would be headed to the Rose Bowl.
As her roommate was trying to study for finals, Luna said she was there screaming at her laptop as the rankings were announced. She immediately called her parents to tell them she was going to California.
"It really felt like such an early Christmas present," said Luna, adding that being in the band has been crucial in her adjustment to college, as she sees her team as one big family.
Hester, who is also a freshman, said this privilege is something the older band members make sure the younger ones fully grasp.
"All the upperclassmen are telling me you don't know what you got man," he said.
Tallent, Luna and Hester all said there are some nerves that come with such a big opportunity, and they generally are unsure of what to expect from the experience. But that hasn't diminished their excitement in any way.
"It really is the granddaddy of them all," Tallent said. "It's a lot better than the Liberty Bowl we went to last year."
The parade will be broadcast on ABC and NBC starting at 8 a.m. The game starts at 5 p.m. and will be shown on ESPN.