'Threat becomes reality': Florence begins days of rain, wind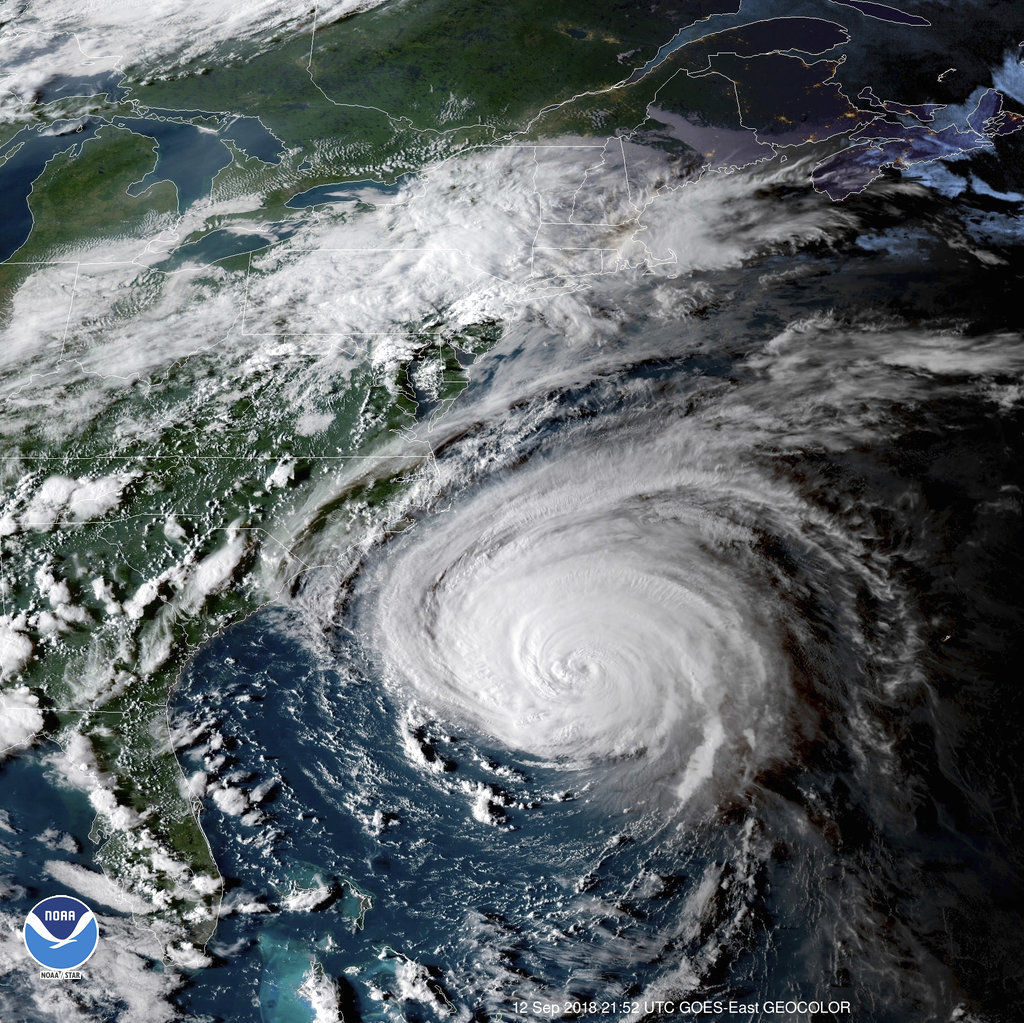 Hurricane Florence's leading edge battered the Carolina coast Thursday, bending trees and shooting frothy sea water over streets on the Outer Banks, as the hulking storm closed in with 100 mph winds for a drenching siege that could last all weekend. Tens of thousands were without power.
Winds and rain were arriving later in South Carolina, and a few people were still walking on the sand at Myrtle Beach while North Carolina was getting pounded.
Forecasters said conditions will only get more lethal as the storm pushes ashore early Friday near the North Carolina-South Carolina line and makes its way slowly inland. Its surge could cover all but a sliver of the Carolina coast under as much as 11 feet of ocean water, and days of downpours could unload more than 3 feet of rain, touching off severe flooding.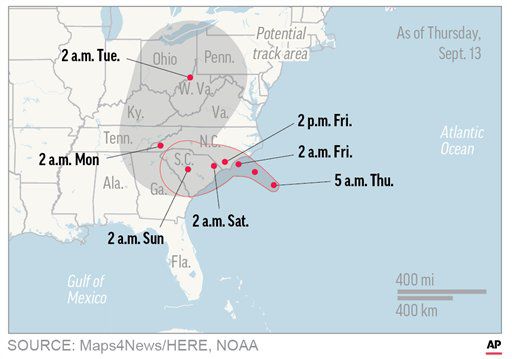 Florence's winds weakened as it drew closer to land, dropping from a peak of 140 mph earlier in the week, and the hurricane was downgraded from a terrifying Category 4 to a 2.
Forecasters said that given the storm's size and sluggish track, it could cause epic damage akin to what the Houston area saw during Hurricane Harvey just over a year ago, with floodwaters swamping homes and businesses and washing over industrial waste sites and hog-manure ponds.
"It truly is really about the whole size of this storm," National Hurricane Center Director Ken Graham said. "The larger and the slower the storm is, the greater the threat and the impact — and we have that."
An analyst for GasBuddy.com says despite the ferocity of the storm they're not expecting gas prices spikes interruptions in fuel supply.
"Supply continues to flow out of refineries at normal levels, so the outages at stations are more of a headache than a panic — there's many stations that still have fuel as refiners and gasoline production have continued countrywide," Patrick DeHaan, senior petroleum analyst at GasBuddy said in a press release. "There have been no refinery shutdowns as a result of Florence."
There could be price fluctuations because of shipping bottlenecks, DeHaan said, but that should not last.
"The good news for motorists is that this is not an event that will result in widespread gas price spikes. Refiners are unhindered and out of the way of the storm, so gasoline keeps flowing," DeHaan said. "Gas prices will eventually fall due to lower autumn demand and a switch to cheaper winter gasoline that takes place this weekend. This event is very unlikely to drive broad large price increases."
Local mobilization
Shorter University has taken in seven international students who evacuated from Charleston Southern University as well as the director of the university's international programs and her family, said Shorter's Associate Vice President for University Communications Dawn Tolbert.
The Floyd County Sheriff's Office, Floyd County Emergency Management and RomeGaCares have begun to plan for supply drops, volunteer registration in case help is needed.
RomeGaCares still has some of the resources available from previous efforts in Florida and Texas and would like to go ahead and plan proactively, said Floyd County Sheriff Tim Burkhalter earlier this week.
The groups met Wednesday to start preparing to roll out in case supplies or assistance is needed.
For those wishing to volunteer or make contributions, the point of contact will be Sgt. James Womack who can be contacted at 470-439-8277 or by email at womackj@floydcountyga.org.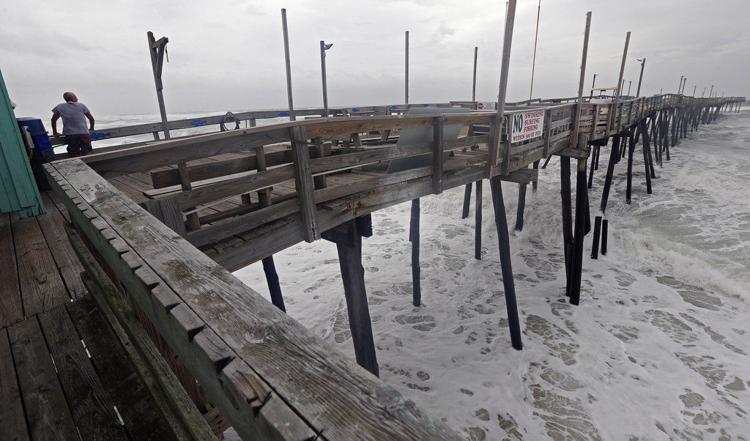 The Red Cross reported there were more than 6,700 people from North Carolina, South Carolina and Virginia in shelters around the region and they've mobilized over 80 emergency response vehicles and more than 120 trailers of equipment and relief supplies have already been deployed.
In addition to that the Blood Assurance Rome Donor Center is extending its hours on Saturday from 9 a.m. to 3 p.m. to prepare for the possibility blood will be needed. The Rome center is located in the Midtown Shopping Center off Shorter Avenue between Hobby Lobby and Longhorn.
Schools and businesses closed as far south as Georgia, airlines canceled more than 1,500 flights, and coastal towns in the Carolinas were largely emptied out.
Forecasters' European climate model is predicting 2 trillion to 11 trillion gallons of rain will fall on North Carolina over the next week, according to meteorologist Ryan Maue of weathermodels.com. That's enough water to fill the Empire State Building nearly 40,000 times.