Rome woman says genetic testing made all the difference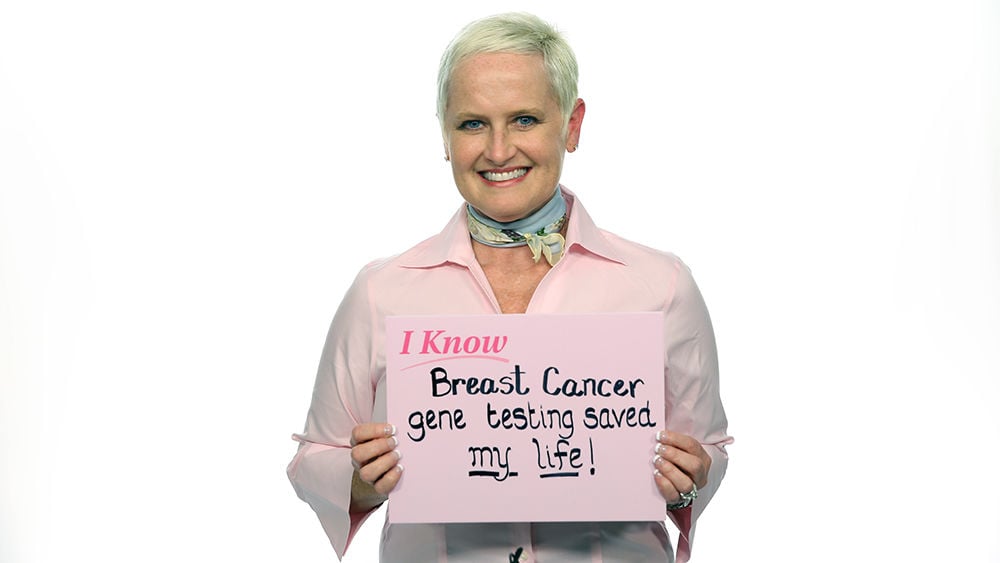 Laura Hicks is quick to proclaim genetic testing for breast cancer not only saved her life, it helped her fulfill a dream she thought she had discarded in her youth.
In 2014, Hicks found out she was carrier of the BRCA2 gene. The average woman has a one in eight chance of being diagnosed with breast cancer in her lifetime, according to Aimee Griffin, director of The Breast Center at Floyd, where Hicks is now an advocate. That cancer risk is elevated to eight in 10 for women who carry either the BRCA1 or BRCA2 gene, collectively known as the breast cancer gene.
Hicks decided to have a complete hysterectomy, a double mastectomy and breast reconstruction surgery. A biopsy after surgery determined she had breast cancer at the time of the procedure. She discovered later it had spread to a lymph node, and she required surgery again.
That was followed with chemotherapy and radiation. Three years later, she is thankful and embracing a career change she originally wanted to purse as a teen. An elementary school teacher for 23 years, Hicks became a flight attendant for Delta this past spring.
When she was just 19 and working at Riverbend Mall in Rome she had planned to go to Texas in hopes of becoming a flight attendant with American Airlines. Then she met her husband, Wendell.
"He and I went on a date and I said 'I am not going to Texas to fly anywhere.' We eloped after six weeks of dating and have been married for 27 years."
As she was recovering from cancer, Hicks said she was counting her blessings, but she could not escape thoughts of what might have been.
"There I was bald, and weighed like 100 pounds, thanking the Lord for the man who loves me and our children, who are the next best thing to sliced bread," Hicks said. "Then it hit me. I was never a flight attendant."
She spent eight weeks training in Atlanta to become a flight attendant. The process was difficult.
"I thought I was going to serve Coke and cookies with a smile," said Hicks, describing her incomplete view of what a flight attendant does. There's more. They have to know something about jets and they have to understand safety procedures and how to deal with people.
Although she lives in Rome, she is technically based in Boston, providing her, she joked, with a rather long commute.
She credits God for bolstering her own determination when it came time to decide to have the surgery three years ago, not knowing at the time that she already had stage 3 cancer. Her mother had tested positive for the BRCA2 gene just before she took her test.
"I had such a conviction in my heart that I had to do this (have surgery). Even when my husband and a medical professional suggested that I wait and see, I told them I'm going to have it done here or somewhere else. I am convinced that was the voice of God."
Genetic testing is recommended for women who have a strong family history of breast cancer and meet other specific criteria. Between 10 and 15 percent of women have a breast cancer history that is strong enough to qualify for genetic testing.
Griffin says that empowering women with knowledge about their breast health is the overriding goal of The Breast Center, which has organized a number of events in October, Breast Cancer Awareness Month.
 "We have always built our program around knowledge," Griffin said. "If a woman knows her body and all of her risk factors, we can develop a personalized and comprehensive plan for what is right for her."
Celebrate Pink Day on Oct. 20
Get educational information about breast health and have fun at the same time at Pink Day on Oct. 20 at the Chick-fil-A Dwarf House on Shorter Avenue.
The Breast Center at Floyd staff and Floyd Breast Health Advocates will attend the event from 6 to 9 a.m. A photo booth will be available for selfies and group pictures.
While supplies last, free magnets displaying images of Floyd's iconic Paper Dolls will be given away during the event. A new addition to Breast Cancer Awareness Month will be a calendar featuring stylized images of the Paper Dolls. The calendars will be available for $10 while supplies last. "Knowledge is Power" T-shirts, spotlighting the importance of taking steps to prevent breast cancer, will also be on sale, $20 for adults and $15 for children's medium and small.