Rome High to have 'school within a school' with new Ninth Grade Academy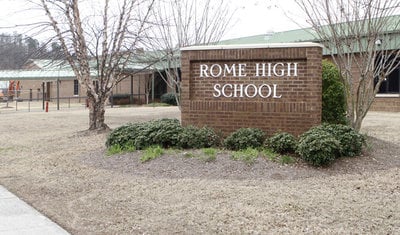 Ninth grade is a critical year for keeping students in school and Rome City Schools officials are hoping the new Ninth Grade Academy at Rome High will help motivate them to stay through graduation.
The 2015-2016 school year will be the first for the academy, which is set to occupy the M building at the school on Veterans Memorial Highway.
"It used to be the math building, so 10 math teachers made the move to allow us to set up the academy," Assistant Principal Bill Singleton said.
Every ninth-grade core-subject teacher will be housed in the M building now. Before the academy, ninth-graders were spread across the school for their classes and often mixed into classes with sophomores, juniors and seniors.
"They could have science on one end of the school and math on the other," Singleton said. "It's a few hundred yards to cross and it can be overwhelming."
Singleton said that the transition year of moving from eighth grade to ninth in the high school can be tough for students.
"In middle school you change classes, but you change as a team — and it is usually within the same hallway," he said.
Having all the ninth-grade teachers on one hall also will make it easier for the teachers to communicate with each other.
"They can walk down the hall and mention that a student may be having a hard time in one class and find out how he's doing in another," Singleton said.
The academy also will help build relationships between staff and students. It will have its own assistant principal and guidance counselor, as well as its own clerical staff. The teachers were chosen because they wanted to work with the ninth-graders.
"It is really going to be a school within a school," Singleton said.
System officials met with the incoming students and their parents last month to discuss the academy and Singleton said the concept was well-received.
"I've had several even tell me that they wish we'd done this sooner," he said.
Some of the students coming into the academy initially expressed concern that it would be too much like middle school, but they learned they will still get a high school experience.
"Ninth-grade students will still be taking electives in the usual way," Singleton said. "They will mix with the upperclassmen then. We feel this will make the move smoother for them."
System officials visited other schools with similar academies earlier this year and liked what they saw, Singleton said.
"Our academy is set up much like one in Cobb County," he said. "They advised that we keep the students in the same building for their core subjects like math, English, science, social studies and Spanish."
The goal of the academy is to keep ninth-graders feeling positive about school, Singleton said.
"Studies show that it is a critical year," he said. "That is when they begin earning credits to graduate, and if they finish the year with only three instead of seven, they want to be at school less. They get behind and feel as if they can't catch up."