Polk Medical Center reaps benefit of rural hospital tax credit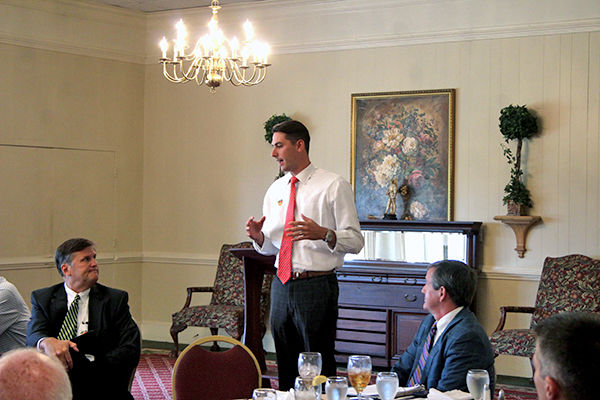 Add to the cost the issue of getting patients who live far from medical centers with greater resources the kind of care they need. Or the lack of medical equipment and technology that could change outcomes for the better.
Even access to information in the community can make all the difference when an area like Polk County seeks to solve a variety of health problems.
The state in years past tried to put in place at least one piece to help solve a rural health care issue: lack of funding.
Enter the Rural Hospital Tax Credit.
The credit is designed to connect donors and hospitals by making a large percentage of the donations given to a list of hospitals statewide who need financial assistance for a variety of programs they'd otherwise couldn't afford themselves. The credit in past years hasn't been fully spent and at least one local legislator wanted to help.
State Rep. Trey Kelley, R-Cedartown, said to members of the Cedartown-Polk County Hospital Authority that the state house and senate put into place an amendment to increase the percentage of tax credits someone can then apply toward their state income or business tax.
"It's something that we've tried to get right over the past couple of years. It started at 80 percent, and we moved it up to 90 percent. This year I carried the standalone bill that made it a true dollar-for-dollar match that would make it the silver bullet to get it right."
The increase of the match percentage to fully credit individual donors or businesses up to a certain amount for making donations to funds ultimately provided enough incentive to get donors to use up the fund faster than ever in 2018.
Kelley said the bill got wrapped up in a larger health care bill targeted at increasing funding and programs in rural communities across the state.
This year's fund allowed for $60 million statewide for more than 40 hospitals, with Polk Medical Center included on that list from years past with the program and earning $550,000 in donations for its percentage allowed.
The hospital could have taken in up to $4 million in donations.
"Our goal is to try to be able to meet the full amount next year," Floyd Healthcare vice president Matt Gorman said.
Among the programs that Polk's portion of the donation pie benefits include the sponsorship of the Rockmart Farmers Market and putting Automated External Defibrillators in local schools.
"It benefits PMC, it benefits the community, and it will help us be a healthier place to live. The way legislation is put together is there is accountability to reinvest in the communities," Gorman said. "This program makes sure that health care is a continuing priority in rural areas."