Playing for a cause: RHS Football players tackle fundraising for Breast Cancer Awareness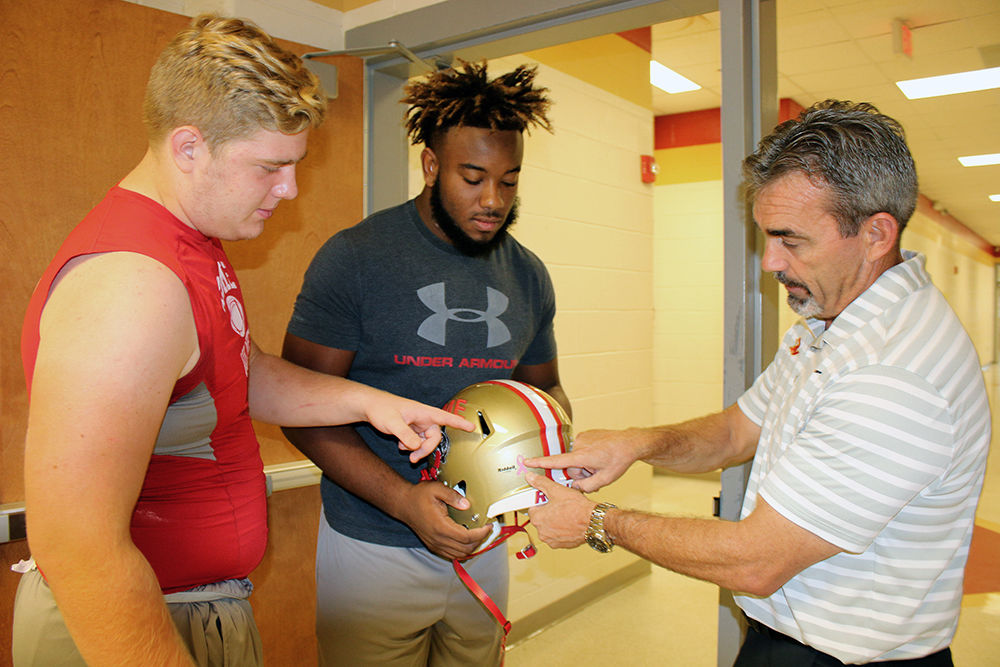 The pink ribbon decals, signifying Breast Cancer Awareness, have a huge meaning to the team, according to John Reid, Rome High's head football coach.
"If our players wear a decal, it is earned," Reid said.
The team has definitely earned the ribbons. Since Monday, the players have been raising money to donate to Floyd Medical Center for Breast Cancer Awareness Month.
They've raised more than $1,500 and Reid will present the check to FMC representatives at tonight's game against Cass High during halftime, he explained. The game is being played at Barron Stadium.
"We went around, asking family and teachers to donate to help us," said senior Jackson Norton, a member of the Wolves' offensive line. "For me, personally, cancer has not affected my immediate family, but there are several people in my church who have dealt with it and it has been devastating. Anything I can do to help, I will."
Senior JaMarcus Chatman of the Wolves' defensive line said he and his teammates are just proud to be helping people who have made it through cancer or are battling it now.
"People in my family have survived cancer," he said. "That's a big accomplishment."
The young men said they were happy that their coach wanted to do something different.
"Before Coach Reid came, we were just wearing pink stuff, like socks or something," Chatman explained. "Collecting money to donate actually makes a difference."
Reid said he felt the young men needed to understand the cause itself, not just wear pink shoes or socks or wristbands.
"I want our kids to be aware and for them to know they can give back, because our community has given so much to us," Reid said. "I felt that just wearing something pink, they lost the focus and it just was about adornments."
Last year, the money the team raised and donated to FMC helped 10 women — who would not have been able to afford it otherwise — get breast exams, Reid said.
"The kids were proud when I told them that," Reid said. "They are a team and work as one. They jump on this now and are excited when they raise more than expected."
Chatman and Norton agreed that they are proud to see so many of their younger teammates enthusiastically raising money for the cause.
"I was shocked how willing the younger players were to give and raise money," Norton said. "It was inspiring to see."
The two will graduate in 2018, but feel comfortable passing the fundraising tradition on, and have words of wisdom for future generations.
"Don't ever think you're too young to make a difference," Norton advised. "Lots of people think they have time to do things like this when they're older, but why wait?"