One week left to register to vote: election features SPLOST, ELOST proposals and contested races in Rome and Cave Spring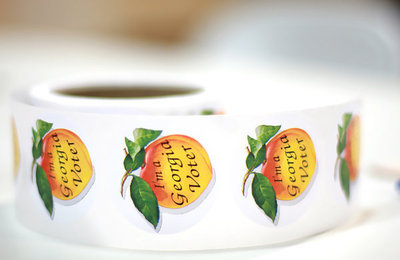 Voters have a week left to register if they plan to cast a ballot in the Nov. 7 general election.
A countywide vote is slated on a proposed $63.8 million special purpose, local option sales tax package, as well as an ELOST package not to exceed $80 million.
Residents within the city limits also have some offices to fill. Rome voters will choose three city commissioners and all seven school board members. Cave Spring has two contested council seat races.
Floyd County Elections Supervisor Willie Green said Monday he's not seeing a lot of movement of in-person voter registrations, although the number of people on the rolls is slowly rising.
"As of today, we have 48,257 active voters," he said.
That's an increase of 78 from the 48,179 reported by the Georgia secretary of state's office as of Sept. 1, and up by 1,376 from the agency's Aug. 1 report.
The increase comes as activists are raising concerns about a voter purge, but Green said it does not appear to have affected Floyd County.
In odd election years, he said, the secretary of state's office mails National Change of Address notices to voters who may have moved. Failure to respond gets them placed on the inactive list — or purged if they haven't voted in the past two federal elections.
"They let us know how many NCOA notices they sent in our county and we had relatively few," Green said.
Voters on the inactive list can still vote if they show up at the polls. Individuals can check their status, register or make changes to their name or address on the Georgia My Voter website.
The deadline is Oct. 10 for the Nov. 7 election.
In-person registration can be done at the elections office in the County Administration Building, 12 E. Fourth Ave., or any Division of Driver Services office. Mail-in applications are available at libraries, public schools and a host of state aid offices.
Advance voting starts Oct. 16 in two locations — the County Administration Building and Garden Lakes Baptist Church Fellowship Hall, 2200 Redmond Circle. For the last week of early voting, Oct. 30 to Nov. 3, the Rome Civic Center on Jackson Hill also will be open.
The universal polling locations will be open through the week from 8 a.m. to 5 p.m. The Floyd County Elections Board also has added Sunday, Oct. 29, to the state-mandated Saturday voting date of Oct. 28. Polls will be open from 9 a.m. to 4 p.m. on those days.
"No excuse," Green said. "We've got to break some records."