Maj. Chris Parker: IS is 'enemy with no honor'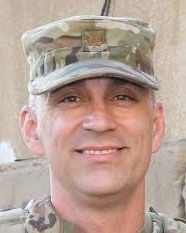 When Iraq's prime minister declared victory over the Islamic State group in Mosul on Monday, it was not like the days of old where military leaders met before cameras and agreed to sign terms of surrender.
"They don't really accept defeat," said Army Maj. Chris Parker, who is a Coosa High School teacher and media engagement chief for the Combined Joint Task Force Operation Inherent Resolve. "We're talking about an enemy that shot civilians in the back to keep them from escaping. This wasn't a formal surrender by a legitimate Army, this was the removal by force of an enemy with no honor."
A day after the declared liberation of Mosul from the militant group, the Associated Press reported airstrikes and shelling still pounded slices of the western part of the city. Armed clashes between Iraqi security forces and IS holdouts raged on in the shattered remnants of Mosul, which has been torn apart by the more than eight months of intense urban combat.
Parker told of the Islamic State group's tactics seen in other cities like Fallujah and Ramadi which may be seen in Mosul, including the booby trapping of homes to kill families who return. Reports have also surfaced regarding IS fighters attempting to slip into civilian cover to avoid capture or to seek more violent ends of detonating suicide belts amongst groups of people, he said.
These are all things Iraqi troops have to be mindful of as they switch from offensive forces to "hold forces," which are more focused on security operations, Parker said. Iraqi troops are now better trained and equipped to handle an insurgency, he said, and this bodes well for not allowing a repeat of what happened in 2014 when IS quickly stormed Mosul.
Some of the militant group's methods that are anticipated were seen in East Mosul after it was taken from IS, Parker said, but Iraqi troops have been able to secure this region of the city with a miraculous response. East Mosul has been able to quickly recover since January, with the resilient citizens of Iraq opening street markets once again and kids forming pick-up soccer games, he added.
"I can't predict the future, but I think any ISIS fighter should see that the establishment of this so-called caliphate was a fool's errand," he said.
But this isn't the end of the Islamic State, and the group is still poses a threat.
"We don't want to give them time to regroup or plan some spectacular attack abroad," he said. "We want to keep them under pressure until they are annihilated.
Relaunching its future
The Islamic State group's mix of a local insurgency and digitally connected global jihadis gives the group staying power and the means to relaunch its future, from small cells of extremists escaping the war zone in Iraq and Syria to those who never went there in the first place.
The impending loss of Mosul and Raqqa cuts out the urban heart of its self-proclaimed caliphate, but the extremist organization has built-in plans to endure and has shown a degree of flexibility that will be difficult to counteract.
For more than a year, Islamic State has acknowledged the possibility of losing the territory that propelled it to the forefront of the global jihadi movement — and drew thousands of foreign fighters. Islamic State's goal since then has been to maintain its local and global support base in the face of overwhelming defeat. Whether it succeeds depends on what happens well after today's battles are over.
Escape cells
A first group of Islamic State fighters from Syria and Iraq numbering more than 100 arrived in Afghanistan at the beginning of February, followed by a smaller group, around 20, at the end of March, according to a U.N. report released last week. The group is unpopular among average Afghans, but shows traction among the young and, most importantly, receives ample funding from Islamic State's central command to pay new fighters triple what the Taliban offers — $500 to $600 a month.
The U.N. report said Islamic State has warned its Afghanistan contingent that it will soon need to be self-financing, an ominous sign for the organization that once pulled in millions of dollars in oil money, ransoms and extortion.
Other groups of foreign fighters are feared to be trying to make their way back to Europe or North Africa, to ether plot attacks there or simply await orders.
In Europe, this has fed fears of extremists hiding among the influx of migrants, while North Africa is "really unstable. ... It's awash in weaponry," said Colin Clarke, an analyst with the RAND think tank.
Islamic State is "a global group but it's more regionally anchored. I don't see them taking up and traveling wholesale to another place. They're going to go where they have roots. They're going to seek out these weak states. They're going to insinuate themselves in local conflicts," he said.
Hostile takeover
Al-Qaida and the Islamic State group split in 2014, driven apart less by ideology than by a dispute over timing and tactics.
Now known as Hayat Tahrir al-Sham in its latest rebranding effort, al-Qaida is on the rise in some parts of Syria and in recent days has begun targeting what it calls "organization cells" of the Islamic State group in Idlib and other Syrian provinces.
The two groups have considerable crossover — and both claim the mantle of Osama bin Laden. The al-Qaida campaign could be a precursor to demands for a merger or hostile takeover, complete with a choice of death or repentance from rank-and-file defectors.
"The differences between these groups are more in style and tone than in substance," said Bruce Hoffman, the head of Georgetown University's security studies program and author of "Inside Terrorism."
Many of Islamic State's foreign fighters, especially those from Europe, headed to Syria with the expectation of joining al-Qaida's branch there, then switched to what they believed was the winning side. Changing back will not be very difficult, Hoffman said.
"Al-Qaida has been waiting in the wings and been letting ISIS take all the heat," Hoffman said, using an alternative acronym for IS.
Fighting – or hiding – in place
Iraq and Syria themselves offer plenty of safe havens for local extremist fighters biding their time. At its height, IS held vast stretches of territory by promising not just brutality, but a religious government beyond corruption that would protect against arbitrary punishment, theft and graft in the service of a global movement for Sunni Muslims everywhere. The promises tapped especially into the grievances of Iraqi Sunnis, who felt abandoned by the Shiite-led government in Baghdad and were suspicious of the Kurdish government in Irbil.
Many in the U.S. have called on the Iraqi government to ensure that Sunnis share in the country's gains going forward — a step that will prove especially complex given that Sunni areas have seen widespread destruction in the fight against the extremists. Block after block of shattered homes line the roads of Mosul, Fallujah and Ramadi.
"It's almost at a new level of divisiveness and an unrelenting decade of bloodletting has made any sense of rebuilding a civil society unbelievably challenging," Hoffman said. Islamic State retains a powerful presence in Iraq's Anbar province and in the city of Tal Afar.
These areas along with what the U.S. military refers to as the "Hawijja Pocket" near Kirkuk, which is southeast of Mosul, still need to be cleared of IS fighters, Parker said,
"There is still plenty of work to be done, but taking out the ISIS capital in Iraq and liberating Iraq's second largest city is a major step toward the utter defeat of ISIS," he said, adding that it will be a long road to rebuild Mosul.
On Tuesday, Shiite politician Karim al-Nouri warned that defeating IS in Mosul doesn't mean that "terrorism" is finished and urged the government to review its policies toward Sunni areas to "avoid previous mistakes that led to the emergence" of IS.
Lt. Gen. Stephen J. Towns­end, who is the commanding general for the joint task force, echoed this sentiment in a Tuesday press conference. He said that what becomes of post-IS Iraq depends on the country's ability to reconcile politically, reaching a point where "all Iraqis view the government in Baghdad as their government."
Islamic State's leadership still has a core of leaders from Saddam Hussein's Baathist organization, known for their survival skills and the support networks they built — something the group's spokesman, Abu Muhammad Adnani, noted in a message before he was killed last summer in a U.S. airstrike: To survive "whether Allah blesses us with consolidation or we move into the bare, open desert, displaced and pursued."
Revenge attacks
A major aspect of Islamic State's propaganda narrative has been to offer a haven to Sunnis worldwide and until recently its videos and photos made a point of tempering extreme brutality with images of abundant harvests, children at play and efficient, free medical care.
Recently, however, its videos have depicted airstrikes destroying the caliphate, providing a powerful new message — vengeance.
Last month's attack at London Bridge was claimed by Islamic State as revenge against the U.S.-backed coalition, and the group pledged more violence to come. With supporters from around the world linked by social media and thousands of pieces of propaganda, security officials in Europe and the U.S. fear similar attacks are in the offing.
At its height, Islamic State had tens of thousands of fighters at its disposal, though estimates varied widely. Airstrikes killed a vast percentage, the streams of Europeans heading to the war zone have dried up, and new recruits from the region are growing scarce, but its survival may not depend on numbers alone.
"The numbers may never be their 60,000 fighters or whatever, but the attraction of terrorism is the disproportionate effect a few people can have on the enemy societies and that'll be enough to keep it alive," Hoffman said. "The most visceral emotion we know is revenge. It is cathartic and self-satisfying and it becomes a duty."
Rome News-Tribune Staff Writer Spencer Lahr contributed to this report by Associated Press writer Lori Hinnant.