Legislators: Growth brings variety of challenges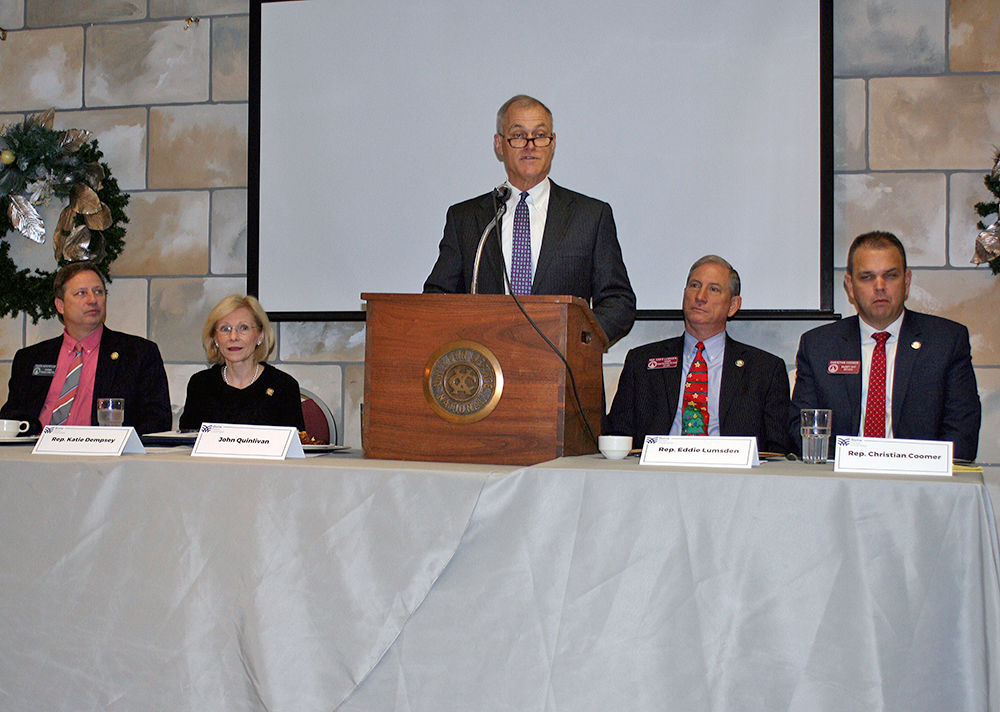 All four members of the delegation, Sen. Chuck Hufstetler, R-Rome; Rep. Katie Dempsey, R-Rome; Rep. Eddie Lumsden, R-Armuchee; and Rep. Christian Coomer, R-Cartersville, attended the Rome Floyd Chamber Pre-Legislative Breakfast at the Palladium on Thursday.
Because the growth of Georgia's economy isn't spread out evenly in the state, Lumsden said some folks he's spoken with in South Georgia have lamented that high school graduation is the saddest day of the year for many below the gnat line.
"Their best and brightest graduates leave and do not return," Lumsden said.
While considerable attention is focused on the legislative session, Lumsden said often issues like healthcare, high-speed internet and workforce development are obstacles to growth in many parts of the state — but they are issues that can best be addressed by local leadership.
Coomer told the Rome Chamber group that Georgia reined in spending rather than raising taxes to combat economic conditions during the recession and learned to work better with limited funds.
Georgia anticipates $1.2 billion in new revenue in 2018, Coomer said, and projected 62 percent would go to education, 15 percent to transportation, 10 percent to public safety, 10 percent to health and human services, with the remaining three percent to general government.
"We're spending it on nuts and bolts stuff that we need to run state government," Coomer said.
The 2018 session would be particularly interesting in the Senate, Hufstetler said, because so many of his colleagues are running for other positions in state government. The finance committee is expected to take a long look at a potential income tax cut for Georgians.
"The six percent rate in Georgia has been there since 1955," Hufstetler said. "We don't want to do anything irresponsible that hurts the revenue of Georgia, but at the same time we have been very conservative, and I think if we could reward the taxpayers with something it would be great, too."
Rep. Katie Dempsey, the chairman of the local delegation, said she expects the state to embrace serious challenges in education.
"When (students) walk into a classroom, Pre-K or college, there are other things on their mind," Dempsey said. "There are things in the way — they don't have enough money to pay for it, they might not have any food at home ... we're asking a teacher to take that person and make them what we want them to be, but there is so much in the way."
Dempsey said legislators are getting ready to focus on students in early grades and through early intervention and diagnosis, they hope to help students succeed.