Judge Greg Price a lifelong advocate for children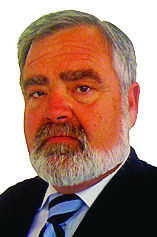 When Greg Price was named grand marshal of the Rome Christmas parade, he made a point to tell attendees at the pre-parade breakfast how glad he would be to see so many smiling faces on Broad Street.
Smiling faces are an infrequent sight in Floyd County Juvenile Court, which Price presides over.
Price said he frequently gets depressed when he has to remove children from their parents. He reminded the audience Tuesday of the large number of Floyd County children who have to be taken away from their birth parents for one reason or another.
"Yes, I know we have to remove them to safety, but why does safety have to be at the other end of the world away from their friends, their church, their schools," Price said. "That's one thing I am working to fix."
Price issued special kudos to local police departments, the Boys & Girls Club, the YMCA, Boy Scouts and Girls Scouts and other groups who work with children. He pointed to Restoration Rome, a faith-based group that is turning the old Southeast Elementary into a resource for recruitment of local foster families.
"All of these people deserve the accolades and I give that to them," he said. "They are making our community much better."
Price is a native of the Augusta area. He graduated from Forest Park High School in Atlanta and the University of Georgia. He obtained a master's degree from Western Michigan University and came back to Georgia in the early 1970s to teach at Clarkston High School in the metro Atlanta area.
Price went back to school at the University of Georgia Franklin College of Law. During his legal studies, Price served as an intern under then District Attorney Larry Salmon. After graduation, Price came back to Rome to work as a prosecutor in the Juvenile Court. After a long stint in private practice, Price was appointed associate judge in the Juvenile Court in 2008. He succeeded the retiring Tim Pape as chief juvenile court judge in 2012 and currently serves as the only elected juvenile court judge in the state.
Judge Price said he's really looking forward to seeing upwards of 20,000 "happy" people Tuesday night.
"I know how many people are going to be there, I live on the hill next to the Clock Tower and they all park in front of my house," Price said.
The parade is scheduled for Tuesday at 6:30 p.m., with a makeup date, in the event of rain, set for Thursday. The parade will begin at West First Avenue and come up Broad Street to City Hall, where Santa Claus will light the new city Christmas tree.