John Barge seeks to recapture state school chief slot, others qualify for local and state offices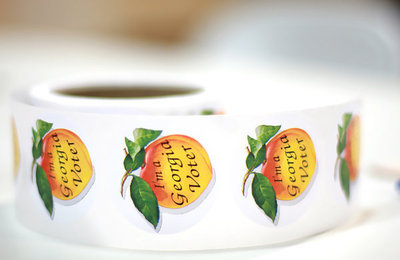 Former Georgia schools superintendent John Barge qualified Monday to take another shot at the office.
Barge, a Republican, is a Berry College graduate who taught in Rome, Floyd County and Bartow County schools. He was elected to the state position in 2010 and served four years in the top slot. Instead of seeking re-election, he made an unsuccessful challenge to Gov. Nathan Deal in the 2014 Republican primary.
Barge broke with Deal over the governor's proposed 2012 constitutional amendment to let the state create local charter schools. The amendment passed with 58.58 percent of the vote.
This year, Barge will go up against incumbent State School Superintendent Richard Woods, who he beat in the 2010 primary. Democrat Sid Chapman also qualified Monday to run for the seat.
Qualifying runs through noon Friday for the May 22 primaries and nonpartisan general election.
Juvenile Court Judge Greg Price will be on the nonpartisan ballot, along with Superior Court Judge Billy Sparks. Chief Superior Court Judge Tami Colston announced early this year she was retiring and, so far, attorney Kay Ann Wetherington is signed up to run for the vacant seat.
Top vote-getters in the nonpartisan judge races will win outright. Winners of the party primaries will advance to the Nov. 6 general election.
Republican Tom Graves of Ranger qualified Monday to seek another two-year term in Congress representing the 14th District covering Northwest Georgia.
Floyd County's incumbent state lawmakers, Sen. Chuck Hufstetler and Reps. Eddie Lumsden, Christian Coomer and Katie Dempsey — all Republicans — also signed up to run for another two years.
All the Republican incumbents in county seats also qualified to run for new four-year terms. Rhonda Wallace, Larry Maxey and Scotty Hancock are seeking re-election to the County Commission. Chip Hood and Tony Daniel are running to retain their county school board seats.
Locally, Democrats are registering at the Salter Law Firm, 242 N. Fifth Ave., and Republicans are signing up at the law office of David Guldenschuh, 512 E. First St. Candidates for the nonpartisan Juvenile Court judge seat qualify with the Floyd County Elections Office, 12 E. Fourth Ave.
Candidates for Congress, the Georgia General Assembly, other courts and statewide offices qualify in Atlanta with their parties or the secretary of state's office at the state capitol.
Note: Article was corrected to reflect the 2012 charter school vote.
Qualified Candidates for 2018 elections
Qualifying runs through noon Friday for the May 22 elections. Nonpartisan winners take office in January 2019. Partisan winners advance to the Nov. 6 general election.
U.S. representative, District 14
Republican: Tom Graves (I)
State senator, District 52
Republican: Chuck Hufstetler (I)
State representative, District 12
Republican: Eddie Lumsden (I)
State representative, District 13
Republican: Katie Dempsey (I)
State representative, District 14
Republican: Christian Coomer (I)
County Commission, Post 1
Republican: Rhonda Wallace (I)
County Commission, Post 4
Republican: Larry Maxey (I)
County Commission, Post 5
Republican: Scotty Hancock (I)
County school board, District 1
Republican: Chip Hood (I)
County school board, District 4
Republican: Tony Daniel (I)
Superior Court, Rome circuit - 2 seats
(Colston) Kay Ann Wetherington
(Sparks) Billy Sparks (I)
Democrat: Triana Arnold James
Republican: Rick Jeffares, David Shafer
Republican: Davis Belle Isle, Brad Raffensperger, Buzz Brockway
Republican: Chris Carr (I)
Republican: Gary Black (I)
Republican: Jay Florence, Jim Beck
State school superintendent
Republican: John Barge, Richard Woods (I)
Democrat: Fred Quinn, Richard Keatley
Republican: Mark Butler (I)
Public Service Commission
Democrat: Doug Stoner, Dawn A. Randolph
Sources: Georgia secretary of state, Floyd County Democrat and Republican parties, Floyd County elections office.