HPC tells tattoo shop owner to replace facade changes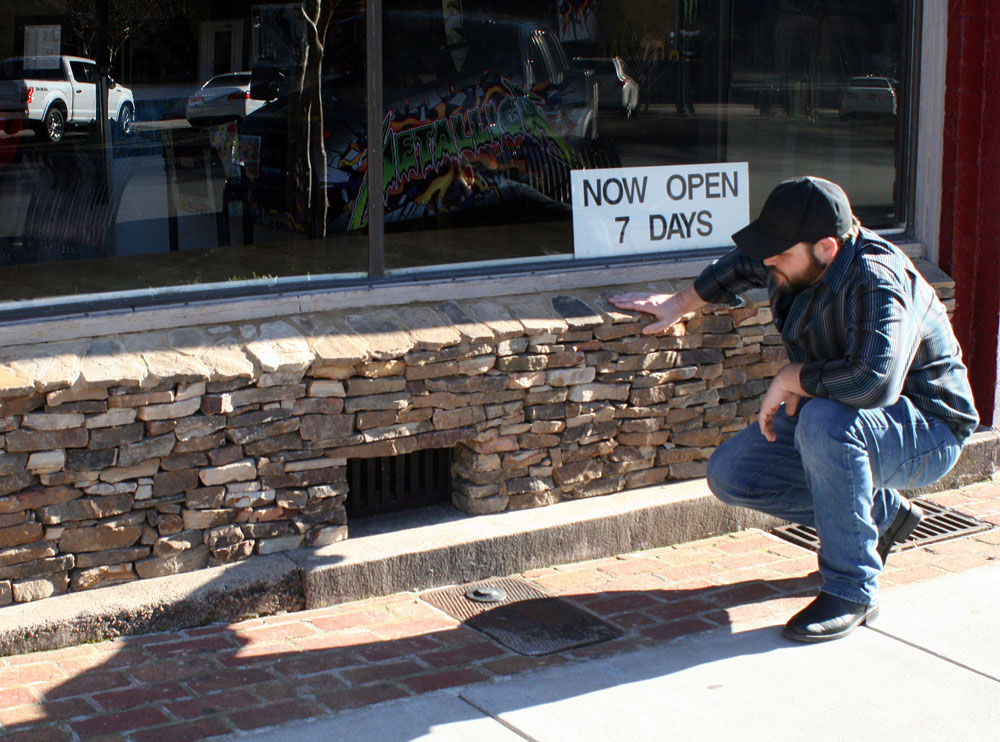 Businessman David Nicholson learned that it's not always easier to seek forgiveness than ask permission on Wednesday, when the Rome Historic Preservation Commission voted to force him to rip out a stacked stone veneer bulkhead beneath the picture window of his tattoo shop.
"It was done a little prematurely," he said during the pitch to the HPC to allow the work to remain in place at Body Canvas Tattoo, 428 Broad St.
Nicholson admitted he was not aware he had to have permission to do the work, which does not meet commission guidelines. He also said that he had not checked with the owner of the building, Carlos Naranjo, to see if the work was permitted.
"I do think this is a problem," said Audrey Burton, a member of the HPC board.
Just last month the HPC approved, after considerable discussion, an awning over the patio of Moe's Original Bar B Que that was constructed prior to getting approval from the HPC.
Commission Chairman Harry Wise said after the meeting that the panel had to show it was willing to make tough decisions to keep other people from doing work outside the HPC guidelines, then going in and seeking after-the-fact approval.
Back at his shop, Nicholson was trying to figure out what he was going to do.
"You know what the problem is? It's what that sign says." Nicholson said, pointing to the tattoo and body piercing sign in the window of his shop. "If I wasn't a tattoo shop, it would have been a totally different outcome."
The HPC also gave approval to another project that included construction that was undertaken outside the parameters of an earlier HPC Certificate of Appropriateness. Mike Schieffer was given the green light to finish construction of an upper-level bedroom to his home at 312 E. Fourth St.
Contractor Mark Long said he was not the original contractor on the project, and when he took over, thought the dormer had been included in the original approval of the work.
The panel approved the dormer because it did not dramatically change the roofline of the home and would not be visible from the street.
The HPC also refused to permit a contractor to install six vinyl windows in a home at 212 E. Ninth St. The panel was willing to allow aluminum-clad windows.
Tom Ganguzza, regional vice president of installation with Power Home Remodeling in Norcross, said aluminum-clad windows are still subject to leakage and rotting of the wooden frames, and his company could not guarantee such replacement windows.
The HPC approved replacement of windows at 202 E. Fourth Ave. and 309 E. First Ave., as long as the replacements were aluminum clad rather than vinyl.