Gun law allowing open carry in government buildings takes effect July 1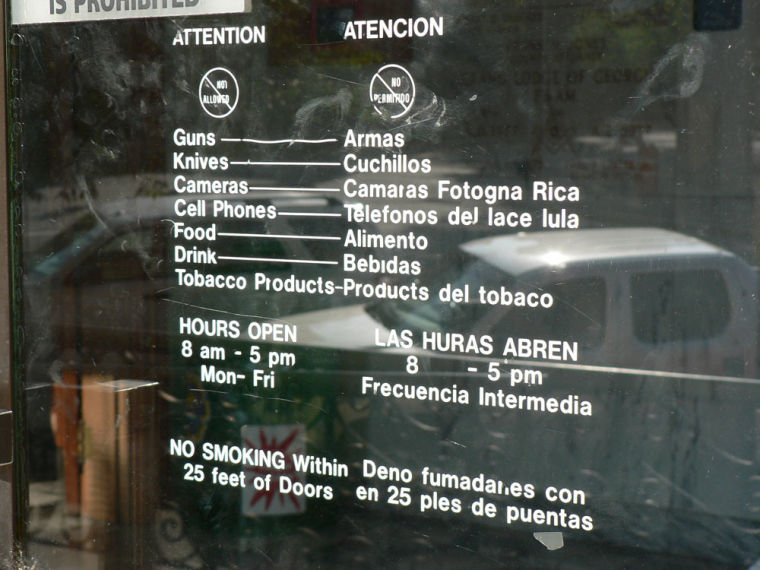 A walk through Rome City Hall or a Floyd County park or baseball field will turn up signs banning smoking and pets. Signs banning weapons are non-existent.
That's unlikely to change, and a new state law expected to make it harder for local governments to limit public venues where guns can be carried might make things easier for those with carry permits.
Georgia House Bill 60 becomes law July 1. It requires governments to enact security measures before banning weapons in public buildings, but critics say it doesn't spell out how that can be accomplished.
Guns can be carried into Rome City Hall, and Rome Mayor Jamie Doss said the city doesn't plan to make any changes at this point.
"It's a new law, and I think it's important for the public to not overreact," Doss said. "This is a law that we really don't, at this point, know what to make of until we see what happens. If people are uncomfortable or in fear, then we need to address it."
The Floyd County Administration Building, at 12 E. Fourth Ave., has a posted notice on its doors banning several items, including guns and knives.
County Police Chief Bill Shiflett said under the new law local governments can restrict licensed gun owners from carrying their weapons inside certain buildings, but only if security is present.
Without that security, the new law allows firearms in those government buildings. The law, however, is ambiguous, Shiflett said. It appears a security checkpoint is required if a local government wants to restrict firearms. "It doesn't say what you have to have or what steps you have to take," the chief added. "You have to have security there, but what kind of security?"
County Attorney Tommy Manning was unable to say exactly how far the law extends into county-owned buildings and structures, such as The Forum, State Mutual Stadium and recreation centers. "I really have to look further into that," he said. "We just don't know at this time."
Click here to see the response from the state Attorney General's Office.
Kristi Kent, public information officer for the Rome-Floyd Park and Recreation Authority, said the authority hasn't made any special policies other than what the city or county demand.
"We are just managing property owned by the city and county," Kent said. "We do not have any sort of signage banning weapons at our facilities and if there are any conflicts at any of our parks we contact the police."
County leaders have different views, or no opinion, on the gun law.
Commission Chairman Irwin Bagwell said he's waiting on a recommendation from County Manager Jamie McCord before forming an opinion. However, he added that he supports citizens carrying firearms for their personal protection.
A licensed gun owner, Bagwell declined to say if he'd bring a gun to a County Commission meeting. "Jamie McCord has not made a recommendation to us yet," Bagwell said. "We will wait on his recommendation. That's all I can say about it."
Commissioner Rhonda Wallace said she wants the commission to discuss the issue, adding that she sees no reason to restrict people's guns rights.
"I can't tell you that I lean one way or another," Wallace added.
Commissioner John Mayes said he wants no firearms at commission meetings. "I'm just not sure what the restrictions should be."
McCord said he has no recommendation, and is unsure when he'll deliver one to the County Commission. He currently anticipates no changes at county buildings because of the new law, adding police currently provide security for County Commission meetings.
Rome City Clerk Joe Smith, whose office oversees City Hall, said they have never had signs posted about bringing weapons into the building in the 27 years he's been there.
"In the last five years or so, we've had an officer stay at our meetings other than the chief, but he stays in lobby," Smith said. "But we've never taken steps to prevent anyone from taking a weapon into City Hall, and it's never been a problem to my knowledge."
City commissioners feel the law impedes on the rights of local governments to properly govern their citizens.
"It's not always about the right to carry a firearm," Doss said, adding that some places in Georgia felt a law of this type was necessary.
"I would prefer that each community could determine the need for that type of change," he said. "Instead, it is a state law … and I don't think it's something that is needed here in Rome."
City Commissioner Buzz Wachsteter noted the board asked the members of the Floyd County delegation in the state legislature to vote against it.
Those members consist of Reps. Katie Dempsey, R-Rome; Eddie Lumsden, R-Armuchee; Christian Coomer, R-Cassville; and Sen. Chuck Hufstetler, R-Rome.
"We felt it was in the best interest of the city," Wachsteter said. "Of course, they voted the other way."
He called the measure another unfunded mandate imposed on the local governments by the state, since it could force them to purchase equipment or hire more law enforcement for screenings at all buildings.
Staff writer Alan Riquelmy contributed to this report.