Floyd County deputies start wearing body cameras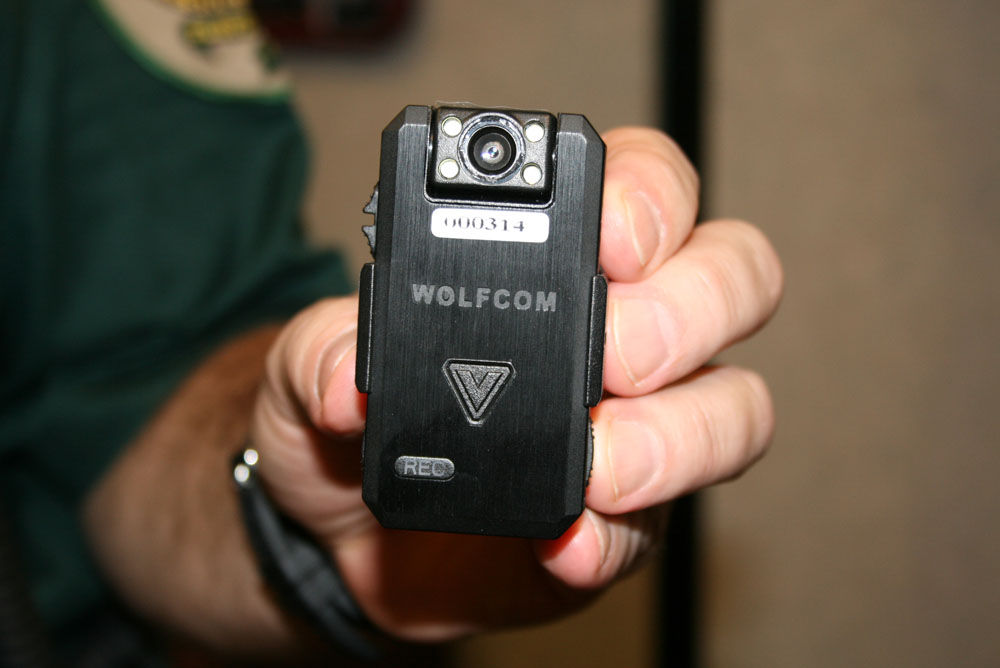 Some Floyd County deputies have started wearing the latest uniform accessories — body cameras.
Chief Deputy Tom Caldwell said Friday 20 of his deputies were trained to use the cameras during a 4-hour class Tuesday.
A newly drafted departmental policy for the devices was implemented earlier in the week, he added.
"They're wearing them now," Caldwell said. "Training went really well. It was a 'get to know your camera' training session where the deputies learned how all the features of the cameras work as well as how to care for them, charge them and download the video content."
The Wolfcom Vision 1080p A/V cameras, which cost approximately $200 and can last 8 to 12 hours, were ordered in two batches earlier this year.
Sixteen of the wearable recording devices were purchased in September through funds allotted in the budget.
Four more — along with chargers, docking stations and server computers used to hold the recorded — data were purchased later after local businessman Harry Pierce, CEO of Big Time Products, donated $10,000.
The devices will be used by all sworn members of the Field Services Division. "That division includes the warrants and civil divisions," said Caldwell.
"Those deputies are the ones who interact with the public the most. They do everything from serving warrants for murder suspects to serving divorce papers. We wanted to start with a trial run with the road deputies before we consider administering them to other divisions."
The cameras will be worn by the deputies at all times, but will only be used to record any contact with citizens unless an exception is granted by a major or lieutenant, according to the policy.
Caldwell said the only exception would be if there is a problem with an officer's device.
"What we would probably do is make that officer ride with another who has a working camera until we can get any issues with the equipment corrected," said Caldwell. "That way we will still have video and audio of any events."
Deputies will download all information collected on the camera at the end of each shift.
All downloaded files will be copied and stored for 30 days.
Recordings related to a documented incident or case will be maintained for five years, and "in capital punishment prosecutions, records shall be kept until the offender is no longer under the control of a criminal justice agency," the policy states.
All video and audio captured by the camera is considered Floyd County Sheriff's Office property, and any tampering with cameras or data by a deputy will result in a disciplinary action — such as termination.
"Just like with our Taser and firearm policies, we want to make sure there is an accountability to take care of these cameras," said Caldwell. "They are expensive, and sloppy handling of the equipment or intentional damages will not be tolerated."
If a camera fails before or during a shift, it's the deputy's responsibility to report the malfunction to his or her supervisor.
The officer will have to document in writing why the recording was stopped immediately prior to or immediately afterward.
Supervisors are required to randomly check the cameras and their data each week to insure the devices are working properly.
The policy also states that if someone asks if they are being recorded, the officer is to answer truthfully, but is not bound by the policy to volunteer that information.
Recordings are not to be stopped per an individual's requests.
"We explained to our officers why we want them to wear the cameras," said Caldwell. "It not only protects the public, but the deputy as well."
There are some exceptions to when the cameras will not be rolling.
The body cameras are not to be used to record communications with other police personnel without the permission of the sheriff or a designee, the policy states.
Recording will also not occur during encounters with undercover agents or confidential informants, while the officer is on break or during personal time, or where individuals have a "reasonable expectation of privacy," such as in a restroom or locker room.
"We're asking the deputies to use their best judgment on this and to ask their supervisor if they think something should or shouldn't be recorded," said Caldwell.
The policy also states that the sheriff's office also reserves the right to limit or restrict an officer from viewing video files related to accusations of uses of force, officer-involved shootings or suspected wrongdoings.
"That's to protect evidence in those sorts of cases," added Caldwell.
Annual training is required to wear the cameras, the policy states.
"Additional training may be required at periodic intervals to ensure the continued effective use and operation of the equipment, proper calibration and performance, and to incorporate changes, updates, or other revisions to policy and equipment," the policy states.
Caldwell said that at the end of the six-month trial run with road deputies, the Floyd County Sheriff's Office will look at possibly purchasing more cameras to outfit their jail officers and other deputies.
"Right now it comes down to money and budgeting funds," added Caldwell.
Meanwhile, Rome and Floyd County police officials said Friday that while they are in favor of the devices, they have not purchased any.
Rome Police Chief Elaine Snow said her agency is "still carefully evaluating" the devices, while Floyd County Police Chief Bill Shiflett said his department has been looking into incorporating the wearable cameras "for a while."
"We're thinking about it," he added.