Floyd BOE gives nod to principal hire, more officers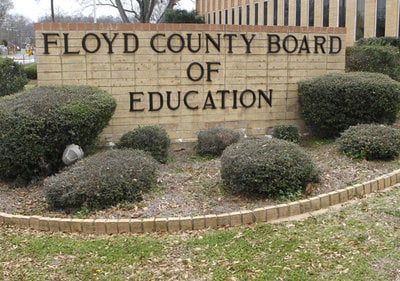 The Floyd County Board of Education Tuesday night approved Suzie Henderson to be the next principal at Alto Park Elementary, as well as making the move to add four police officers to enhance school security.
Suzie Henderson is the current assistant principal at Pepperell Elementary and, in 2009, was named the Floyd County Schools' Teacher of the Year. She will take over the principal position April 1 and replace the retiring Angela Brock.
Following a meeting with Floyd County law enforcement and public safety officials Friday, the board went with their recommendation to add four off-duty officers for the rest of the school year at an additional cost of approximately $52,000. Each of the system's four districts — Pepperell, Model, Coosa and Armuchee — will be provided an officer in addition to the school resource officers they already have.
This is seen as tangible move to enhance security and increase a police presence at schools other than predominately at the system's high schools.
"What we're basically doing with this plan is buying time," to explore further options, including developing the system's own police force under the recommendation of law enforcement, said Superintendent John Jackson.
Another option was adding an officer for each school for the rest of the school year at an estimated cost of approximately $211,200. However, there are not enough current Floyd County officers or deputies to meet this end.
Jackson said the system will "immediately" be in contact with local law enforcement officials to set up the training necessary to get these off-duty officers in schools as soon as possible.
The system is also creating a subcommittee of the Local School Coordinating Council, a system-wide collective of representatives of each Local School Governance Team, to focus on school security. Additionally, a checklist with over 15 items has been compiled to measure school security at each school.
The board will have a called meeting March 13 at 8 a.m. to further discuss school security measures.
Also the system will not have students make up four days they missed due to inclement weather — two additional days were already added last month to make up for the loss of instruction time.