Floyd BOE approves construction, staffing contracts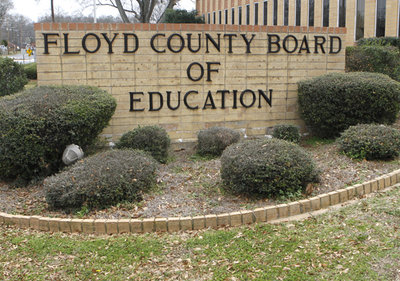 The Floyd County Board of Education has approved two contracts with R.K. Redding Construction for air conditioning installation at three gyms and equipping Pepperell High with a new HVAC system.
The Bremen-based company received a $469,800 contract for air conditioning installation at the gyms of Glenwood Primary, Garden Lakes Elementary and Pepperell Elementary. It also received a $3,698,674 contract for the new Pepperell High HVAC system. These contract amounts cover the complete cost of construction — architect fees are excluded.
The board approved the contracts during Tuesday night's board meeting.
During caucus, Floyd County Schools Director of Facilities David Van Hook told board members the gym's air conditioning work includes making structural changes to get the equipment to fit. These projects will be funded through education local option sales tax funds.
The bid for the Pepperell High HVAC project was better than system officials expected — an original estimate for the work was closer to $4 million.
The new HVAC system will be based on two water-cooled chillers. The construction company will be responsible for replacing all the current equipment with new equipment. Van Hook said Freon from the current HVAC system at Pepperell High will be used in other schools.
The system is eligible to receive $1,536,000 in reimbursement funding through the state capital outlay program for this project. This money would go into a "rolling fund" to complete other capital projects.
Also, Van Hook said 10 percent of the cost will be retained by the system until inspections of the work determine it has met standards. R.K. Redding has an Aug. 24 deadline to complete the project or it will have to pay penalty fees.
In other items, the board approved a contract with the staffing service Sources 4 Teachers, which, at the start of the next year, will handle the placement of substitutes in schools. Superintendent John Jackson said this would cut down on the administrative work necessary to find substitutes.
This year's budget has $350,000 allotted for substitutes. A cost for the change was not available, but the system will pay substitutes more through the system — a 34 percent increase for subs already working in the system and a 33 percent increase for new subs the company brings in. However, the system will no longer have to cover substitutes' benefits and insurance. Sources 4 Teachers also holds all liability for them as well.
The board also approved a continuation of a contract with Etowah Staffing to provide custodians, bus monitors, lunch monitors and food service substitutes.
Wanting to get an early jump on securing qualified personnel, the board approved contracts for certified employees — a separate motion was made to approve the contract for Garden Lakes Elementary counselor Melissa Shell, whose husband, Jay Shell, is a board member and he abstained from the vote.