Floyd BOE adopts slight tax reduction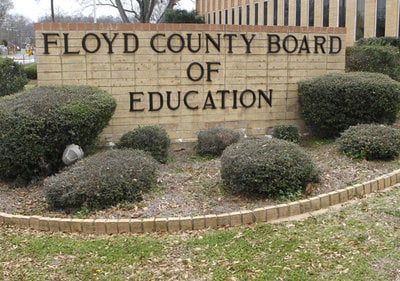 The Floyd County Board of Education adopted a property tax rate of 18.300 mills following the last of three public hearings early Tuesday morning.
The tax rate approved by board members is a decrease of 0.055 mills. The rate is expected to generate an estimated $32.3 million, a $1.3 million increase, in local property tax revenue for the 2019 budget.
Though it is a slight decrease, the board had to advertise the change as a tax increase and hold three public hearings — two on July 2 and one Tuesday. The board chose not to completely drop the rate to the calculated rollback rate, which would have brought in the same amount of property tax revenue as the previous year, to provide funding for planned security improvements to elementary school entrances. The board has allocated $1 million in funding for those improvements.
Those whose assessed property value has gone up would pay more than if the calculated rollback rate was set. Those whose property value did not increase would see a small cut to their tax payment — $2.20 for the owner of a $100,000 home, for example.
Floyd County Schools Superintendent Jeff Wilson, who was leading his first regular board meeting as superintendent, commended board members on lowering the rate while also meeting the demands of operating the school system.
Board members also approved a resolution which will withdraw a state capital outlay funding application submitted by the school system for a new roof and HVAC system at Armuchee High School, which is set to undergo major renovations as a $26.3 million ELOST project over the coming years.
In planning out the schedule for all the work at the school, the board decided to start on projects for athletic facilities, including constructing a new gym first, rather than get a new roof and HVAC system now while other renovations inside are still a few years off. Work on the new gym and some other athletic facility improvements are being scheduled to start sometime this fall.
Director of Facilities David Van Hook said the main thing concerning the application withdrawal is timing, since application is held open for 18 months. The state takes out bonds to provide school systems with the reimbursement funding, so the resolution tells the state not to sell the bonds.
The system was eligible to receive over $2 million for the roof and HVAC. It will not lose this possible funding by withdrawing the application now.
A structural engineer has evaluated the roof and determined it is not at risk of collapse, Wilson said, though there have been issues with leaks following periods of heavy rain.
Some remaining gaps in personnel before the start of next school year were also filled — a Spanish teacher at Armuchee Middle and parapros at three schools.