Floyd and Bartow officials scheduled to meet today about 411 Connector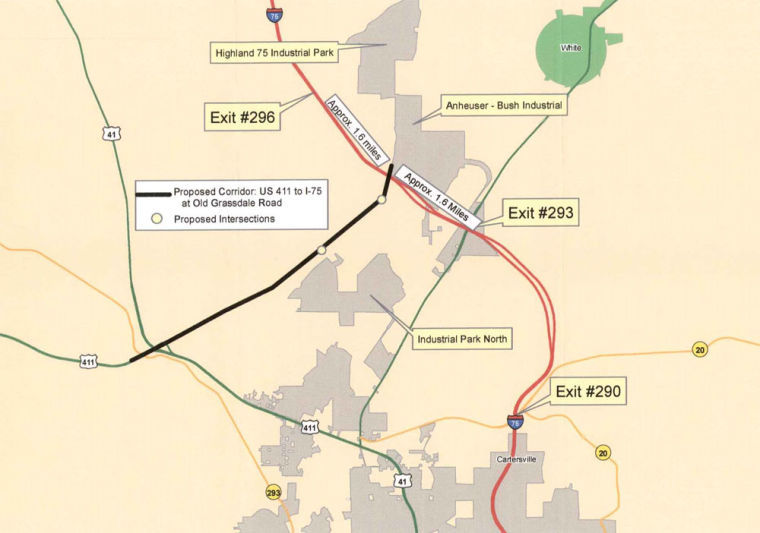 The Floyd County government issued a press release about the 411 connector meeting today in Bartow County:
On Wednesday, February 5, 2014, a coalition of local leaders will sign a letter at the Bartow Chamber of Commerce at 1:30 p.m. The letter, addressed to Senator Johnny Isakson and Senator Saxby Chambliss, promotes a regional solution for an alternative route for the 411 Connector to I-75. The signatories include Irwin Bagwell, Commission Chair of Floyd County, Jamie Doss, Mayor of Rome, Steve Taylor, Sole Commissioner of Bartow County, Matt Santini, Mayor of Cartersville, Joe Frank Harris, Jr., President and CEO of the Cartersville-Bartow County Chamber of Commerce, Inc., and Albert Hodge, President and CEO of the Greater Rome Chamber of Commerce, Inc.
The letter affirms the consensus reached by all local parties for the mutually beneficial 411 Connector to I-75 and requests assistance from the Senators in urging the Federal Highway Administration to bring this long overdue project to reality. The letter contains several points and states the proposed route is closer to four (4) miles rather than the prior route's seven (7) miles thus saving an estimated $120 million in construction costs.
"The letter today is just one of many steps towards our shared goal of a 411 Connector to I-75. This route will benefit the people and industries in Floyd County and Bartow County. I'm thankful for this renewed effort and for the joint work to bring us to this point and ultimately, to the successful implementation of the route," stated Chairman Irwin Bagwell. "This is great progress and long overdue. This is the first step and result of lots of recent hard work by everyone involved," said Mayor Jamie Doss.
Floyd and Bartow County leaders are expected to sign off on a letter of support for the new "old" Ridge Route connection from U.S. 411 to Interstate 75 today during a meeting at the Cartersville-Bartow County Chamber of Commerce.
The letter would be sent to U.S. senators Johnny Isakson and Saxby Chambliss, asking them to carry support for the route to the Federal Highway Administration.
Joe Frank Harris Jr., president of the Bartow Chamber, said he believes support for the route is beginning to develop a lot of momentum.
Steve Taylor, Bartow County's sole commissioner, is already positioning the county to take advantage of the new route.
Taylor said Tuesday that InBev, which owns Anheuser-Busch, appears willing to part with 1,050 acres it owns between the Budweiser brewery and Cass-White Road.
If the county is able to acquire that property along with a few other nearby tracts, it would add it to the Highland 75 Industrial Park, a 707-acre site north of the Cass-White Road, creating a mega-site of nearly 2,000 acres.
"A mega-site involves 1,000 acres on an interstate with water, sewer and rail. That site would have all of that," Taylor said. "There's just not that many tracts in Georgia that big that have that much going for it."
He said that kind of size would be attractive to virtually any auto manufacturer, even companies in the aircraft industry.
The proposed connector route, which would hit I-75 near Old Grassdale Road, was originally identified by the Georgia Department of Transportation back in 1986. It was abandoned after Anheuser-Busch leaders said they might have plans for the property.
 Harris said that, prior to the meeting in Cartersville, officials will meet with transportation leaders in Atlanta to discuss linking the road project to economic development across the entire Northwest Georgia region.
"We've got to hit them from every angle in order to get this over the goal line," he said.
Economic development is now a factor that can be considered by the transportation planners when it comes to developing potential highway corridors.