Fingers crossed as rivers rise, officials closely monitoring river levels with more rain to come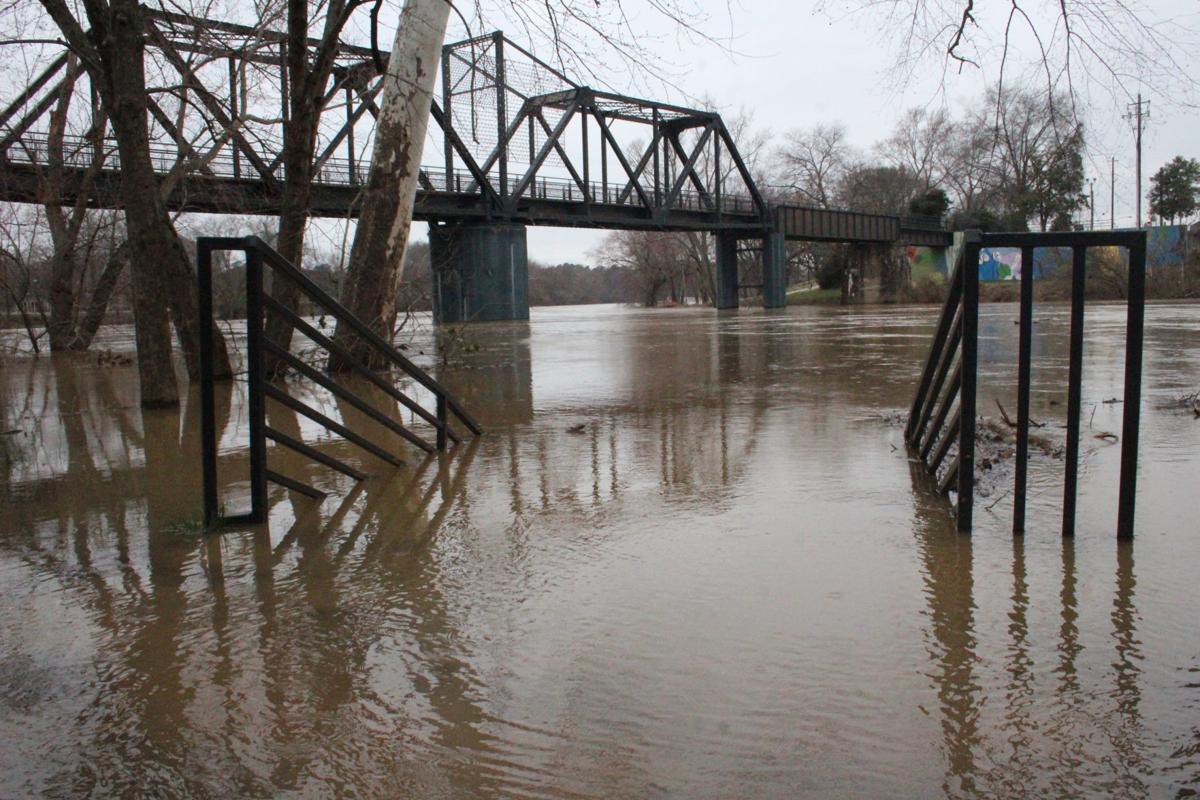 Despite "mild to moderate" flooding in areas across the county due to recent rainfall, the director of the Floyd County Emergency Management Agency is hoping that the estimated half an inch more rain to come doesn't push water levels into flood stages.
"We're just going to stay on top of it and keep an eye on it the best we can," said Tim Herrington, and "keep our fingers crossed."
As usual for this time of year, Herrington said typical areas for flooding have been impacted and precautions have been taken, including closing the flood gates at the levee as river levels rise. He was notified by the Army Corps of Engineers on Monday afternoon that water from Lake Allatoona and Carters Lake was not going to be released, assuaging some concern.
Herrington said the biggest issue over the last couple of days has been runoff, going from sewers into tributaries and into rivers. Armuchee Creek and Lock & Dam Park were two areas he pointed to for having significant flooding, which was also seen in water covering paths near the Rome-Floyd County Library and Bridgepoint Plaza.
As of 7 a.m. Monday, the National Weather Service indicated Armuchee Creek was 1.20 feet from reaching the flood stage of 19. Additionally, the Oostanaula River was 5.77 feet under its flood stage of 30 feet; the Etowah River at Ga. Loop 1 was 7.36 feet under its flood stage of 32 feet; and the Coosa River inside Rome reached 0.07 feet above its flood stage of 24 feet.
The 24-hour changes in the flood stages for each of the rivers were over 4 feet. The Oostanaula had an 8.94 foot change, the Etowah had a 4.72 foot change and the Coosa had a 7.13 foot change.
It may be a couple of days before water levels show a significant decline, Herrington said.
As of Monday afternoon, there hadn't been reports of water running over roads but in some low-lying areas, specifically off Old Dalton Road, it was getting close, Herrington said. Standing water in ditches caused by debris blocking up cross drains was an issue both city and county public works departments were addressing as they saw it, he added.
The NWS forecasted the chance of rain today at 30 percent, and for Wednesday there is a 60 percent chance throughout the day dropping to a 30 percent chance by night. There is a 40 percent chance of rain Thursday and a 60 percent chance Friday. The chance of rain will be around 30 and 40 percent over the weekend.