FCSO Sgt. Battle on leave during investigation of jail incident; GBI asked to look into case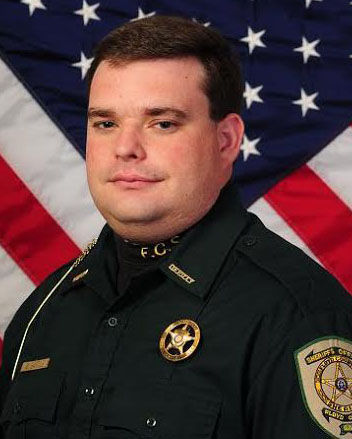 A Floyd County Sheriff's Office sergeant was placed on administrative leave Friday pending the outcome of an internal investigation of an incident at the jail Sunday.
Cpl. Carrie Edge, the sheriff's office public information officer, said she was unaware of the reason for the investigation into Sgt. Matthew Battle.
She also said she could not confirm if the investigation revolved around a complaint Felicia Curry attempted to file Monday regarding the treatment of her son.
Curry provided the Rome News-Tribune with a copy of the complaint against Battle in which she stated her son Jauan Porter was tased while wearing handcuffs at the jail and then dropped off by police.
Porter was taken to the jail after he had been attacked by a group of people early Sunday, the complaint stated.
He was then, she wrote in the complaint, dropped off without charges at Walgreens — across the street from Floyd Medical Center — to seek medical attention. She wrote that Porter was intoxicated and could barely walk and had ripped clothing and no longer had his jacket.
"My son didn't deserve that at all, or no one for that matter," Curry said in a private message.
The sheriff's office told Curry they do not accept complaints filed by a third-party as a matter of policy, Edge said. They also asked Curry to have her son file the complaint.
He has not yet filed a complaint, Curry said.
A Rome Police Department report also details the incidents regarding Curry's allegations.
Police responded to a Tamassee Lane address around 5:26 a.m. Sunday.
A woman said a man, identified as Porter, had gotten in her car and was begging for her to help him. When police arrived Porter fled and was captured after he fell in the woods. Porter told police he was drunk and had been attacked by a group of men earlier and was trying to get home.
Police took him to the jail.
While at the jail, Porter became belligerent when the nurse attempted to take his blood pressure. Deputies put him in a cell "in an attempt to calm him down" and then later attempted to take his blood pressure again. At that point Porter was tased by an unnamed deputy.
Deputies refused to take Porter to the hospital, the report stated.
Rome police then took Porter to the front of FMC, according to the report, and released him on a city drunk citation.
The sheriff's office has requested that the GBI conduct an investigation.
"A thorough internal investigation will be coordinated by our office, paralleled with a separate investigation conducted by the GBI," Edge said in a press release. "Once the internal investigation is complete, we will take action commensurate with the findings. Our administration takes great pride on transparency and places precedence on ensuring public trust."