FCS ELOST 4 projects include security upgrades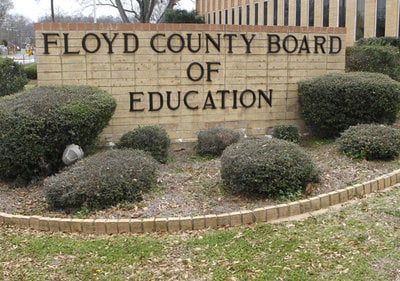 "Good security is never convenient," said Floyd County Board of Education member Tony Daniel.
His comment followed Floyd County Schools administrators briefing board members during a called meeting Tuesday on school safety protocols and infrastructure currently in place, along with measures which had been planned prior to the topic being elevated due to last week's deadly shooting at a Parkland, Florida, high school.
Director of Students Services Glenn White said the system currently has four SROs — school resources officers — who are assigned to each district. They are mainly stationed at the high school, but do make rounds at the lower schools.
Every school has a radio which is tied into Floyd County 911, and a button can be pushed to make the call, White said. Also all elementary schools have buzz-in entry systems — an ELOST 4 project — where someone in the front office can see who is at the door before they are let in. Deputy Superintendent April Childers said installing similar systems at each middle school is being planned, and it was mentioned Tuesday for this to apply to the three high schools without them — Coosa High had it installed with new school.
White added that these same entry systems can initiate a lockdown in an active shooter situation; police response is estimated to be three to four minutes. Each school has emergency action plans which call for at least three drills — fire, tornado, lockdown — throughout the year.
Also for the first time, White said the system is planning a whole school evacuation April 30, moving students from Armuchee Middle to Armuchee High in buses. This will allow for an evaluation of safety plans, which the system receives guidance on from the Georgia Emergency Management Agency and the Department of Homeland Security, he continued.
A revision to the safety policy was made last year, cutting out the use of code words and instead using only plain English.
Additional projects aimed at school safety, to be funded by the current 1-cent education local options sales tax, include upgrading CCTV security cameras at Pepperell High, Model High and the College and Career Academy.
Childers said bids are currently out for these upgrades at Pepperell High, which has 180 cameras, monitoring the interior, door entries and parking lots. These upgrades will also reach middle schools. 
For any construction involving entry ways, Childers said two-tier entry systems will be built into plans, including the modernization of Armuchee High and construction of a new Pepperell Middle.